5 Kitchen Renovation Trends For 2022
Posted on December 03, 2021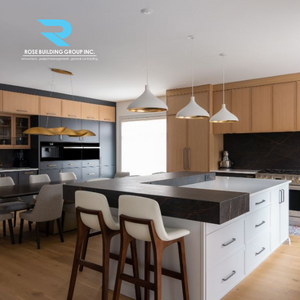 The kitchen is the heart of a home since it's where you prepare your meals, bring together the whole family for conversations and spend hours entertaining guests.
So, if you're looking to undergo a kitchen renovation in Burlington in the new year or just a few updates, it's imperative to know the biggest kitchen renovation trends for 2022. Renovations in Burlington are a significant investment, so it's essential to put a lot of planning into your kitchen remodel with trusted home renovation contractors near you.
To help you out with that, we thought we'd give you a sneak peek of what will be the most popular kitchens design trends next year. If you need more design inspiration, feel free to reach out to the Rose Building Group team!
Kitchen Renovation Design Trends For 2022
1. Glazed Tile Backsplash
There is no doubt that backsplashes have been the centre of attention during a kitchen renovation over the last decade. Going into 2022, our home renovation contractors see a shift away from matte-finished backsplash and towards a high gloss finish.
2. Glass Partitions
In the wake of COVID-19, the large open-plan concepts that have been oh so popular for the last decade have revealed their downfall. Many homeowners in Burlington now appreciate the ability to close a door to escape from the hustle & bustle and noise. This is a new approach to the classic wall element where floating glass partitions are used on the cabinetry to create room dividers and cooking stations while still giving the kitchen a more luxurious feel. The glass partition can also provide privacy without sacrificing too much of the open-kitchen space.
3. The Single Open Shelf
The most significant kitchen design trend of 2022 will undoubtedly be simplicity. In the next few years, those remodelling their kitchens will seek to achieve a simple, open, minimalist style. An open shelf is a perfect solution for those who want to simplify their kitchen but still have a functional open space. ​​It's simple in its design. Add whatever plates or decorations you see fit. They are highly adaptable and flexible, meaning you can decorate them as you please.
This highly functional design offers storage without clutter and can hold all sorts of kitchen items and accessories. A 20-inch single open shelf will add a big beautiful, and tidy touch to any kitchen.
4. Bold Colours in the Kitchen
Kitchen paint colours are becoming ever bolder. Now we're moving away from the idea of a kitchen being a plain white backdrop for your beautiful dinner parties and into something bolder and more exciting. There are so many opportunities for you to incorporate colour into your kitchen. Paint your cabinets a color that pops, but don't overdo it. If you opt for a colour pop, keeping the remaining features neutral or white would be our recommendation.
5. Invest in Your Pantry
The pantry cupboard is the new black. Or should we say white? The pantry, always a standard feature of kitchens, is making a comeback and with a twist. Gone are the days when the pantry served only one purpose – to store food and teas and coffees. Pantry cupboards in today's kitchens are often so much more than that. In fact, contemporary kitchens are generally designed with plenty of storage for dry goods, fresh foods, and cooking ingredients.
Modern homeowners are embracing this trend more and more each year. Home renovation companies in Burlington have picked up on this trend and made it even easier for homeowners to have a pantry cupboard of their own in their kitchen. Homeowners can now find ready-made cabinets for their pantries or just design their own to be customized to fit their space perfectly. Talk to one of Rose Building Groups kitchen contractors today about how we can customize your kitchen cabinets and more!
Final Word
2020 was a big year for kitchen renovations in Burlington. We saw organic trends like farmhouse sinks, wood countertops and statement islands take center stage. Bigger picture, the biggest trends we saw were unique to each client and the state of the existing home. Homeowners are now viewing the kitchen as an art gallery. We're seeing much more sophisticated tile designs, modern glass backsplashes, marble tabletops and wood flooring flowing throughout Burlington homes as we enter the new year. Talk to one of Rose Buiding Groups' kitchen renovation contractors in Burlington today about how we help plan your upcoming kitchen remodel.