5 Ways To Make Your Kitchen Look Luxurious
Posted on October 22, 2021
A kitchen renovation can add a lot of value to your home. With the help of a kitchen renovation contractor or by hiring a kitchen and home renovation company, they can help you remodel your kitchen to appear high-end and luxurious without compromising on your budget.
Here are 5 ways that you can renovate your kitchen to look luxurious without obliterating your budget:
Lighting
Choosing the perfect light fixture can be a quick and inexpensive way to add a touch of elegance to your kitchen. Swapping out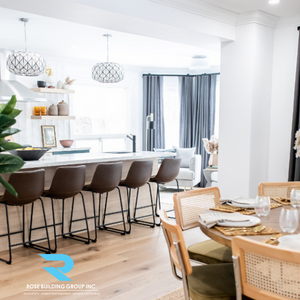 your existing light fixtures can have a significant impact on the overall appearance of your kitchen. Trending in 2021 is to choose a globe-style lighting fixture that features silver or brass details.
Another way to add a touch of elegance to your kitchen renovation is by installing under counter lighting. Not only does it look expensive but it also is functional during meal preparation.
Touch-Sensitive Faucets
As technology advances, we're finding more and more ways to help us in our daily lives. One such way that is proving to be extremely popular in 2021 is hands-free faucets. These hands-free faucets are a fantastic and affordable option. They prevent the spread of germs and viruses and result in less mess to clean up.
Open Shelving
Kitchen cabinets offer space for storage and shelving, but they can also add bulk and visual weight to a space. If you're looking for a sleek, streamlined look, it may be time to swap cabinets for simple open shelving instead. This way you can showcase your best dishes and glassware while decluttering the kitchen and creating a lighter feel overall.
TIP: We've always been a fan of exposed shelving. It's a subtle upgrade that makes your kitchen look more luxurious without being too flashy. It also makes cleaning easy, as you can just wipe it down. It's an incredibly cost-effective way to update your kitchen without doing a complete renovation.
By the way, if you're considering a major renovation but aren't sure where to start, a kitchen renovation company can help you!
Panel Ready Appliances
Of course, your kitchen will need to have appliances and with Panel Ready Appliances you can seamlessly fit them in with your style and aesthetics. More and more homeowners are looking for panel-ready appliances because they allow you to match your appliances with the overall look of your kitchen.
Decorative Range Hood
A decorative range hood is a must-have for everyone who loves luxury and elegance. The use of decorative range hoods can help to achieve an upscale look in your kitchen without shelling out an enormous amount of money.
Unlike conventional range hoods, decorative range hoods are designed to complement your kitchen's style and not clash with it. The most popular styles for decorative range hoods are antique, modern, and transitional designs. This helps to give your kitchen a unique look that no one has.
There are so many great ways to update your kitchen in 2021. New design trends emerge annually, and you'll want to stay on top of the latest ones.
Let's face it, kitchens are the heart of your home. So why not make the heart of your home both functional and luxurious with the help of Rose Building Group. We take pride in being one of the best kitchen renovation companies servicing Burlington, Oakville, Hamilton, and the surrounding areas. We have skilled contractors that have the experience to take your kitchen to the next level. Contact us today!