Deluxe Kitchen Renovations in Hamilton
Functional Storage | Customized Designs | Better Lighting
Are you ready to experience the kitchen you've always wanted?
Rose Building Group has been a leader in design, renovations and remodelling in Hamilton for more than a decade. With the top interior designers and home renovation contractors in Hamilton and the Greater Toronto Area. Rose Building Group is committed to delivering stunning and functional kitchen designs. Choose from various customization options for designs and layouts so you can revamp your kitchen just the way you like. With a kitchen renovation in Hamilton, you can make your dreams come true.
It's Time to Revamp Your Kitchen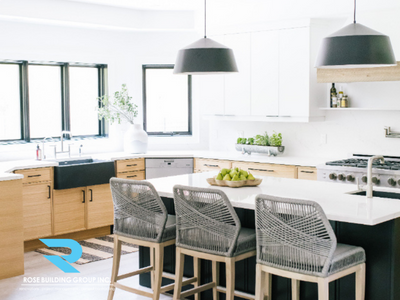 Your kitchen is the heart of your home and where you spend most of your time. Having a space in which you feel happy and comfortable makes cooking and eating much better. With guidance from the expert kitchen remodelers at Rose Building Group, you can revolutionize your kitchen into a high-functioning space.
The team of skilled Rose Building Group technicians are highly-experienced in planning, designing, and renovating even the smallest and most complex kitchen layouts.
Upgrade Your Kitchen With:
Enhanced Lighting
Functional Storage Spaces
Complete Flooring, Ceiling & Wall Makeovers
Customized Designs
Countertops, Islands & Peninsulas Upgrades
Endless Layout Options
Beautiful Cupboard Upgrades
Reach out to our team today!
It's Time to Upgrade Your Kitchen
Whether you're looking for a minor upgrade like functional storage or something more extensive like a floor renovation, the experts at Rose Building Group have what it takes to make you love your kitchen. Even if you only need a small kitchen renovation, our team of home renovation contractors will transform your space into something extraordinary with kitchen renovations in Hamilton.
Better Lighting: Brighten your kitchen space with sophisticated and strategically incorporated lighting features. High-quality lighting in specific areas will illuminate your kitchen, improving the dining and culinary experience for you and your visitors.
Layout & Design Customizations: Even with small kitchen renovations, anything is possible to transform your space. Change up your backsplash, go for an open layout, or try a contemporary look. The possibilities are endless regarding design and renovation customizations at Rose Building Group.
Functional Storage: Level up your storage space with new pantries, cupboards, cabinets, and drawers. With practical storage, every kitchen item has a dedicated space to keep it clean and organized. Modern, functional features that help declutter your kitchen are bound to impress you and your guests.
Floor, Wall & Ceiling Makeovers: With professional kitchen remodelers, you can give your flooring, walls, and ceiling a complete makeover. Upgrade to tiles floors or refurbish your walls for a modern look.
Ready to upgrade your kitchen? Choose Rose Building Group for Kitchen Renovations.
If you want to transform your kitchen into your dream room, the renovation experts at Rose Building Group are ready to leave you speechless. Get beautiful upgrades, polished finishings, and excellent customer service, so you can start enjoying your kitchen as soon as possible.
Why Choose Rose Building Group for Your Next Kitchen Renovation
Equipment: At Rose Building Group, contractors always consider new methods and use the latest and highest-quality technology to get the job done right.
Experience: With over 16 years of experience, Rose Building Group is exceptionally skilled and experienced at kitchen remodelling in Hamilton.
Detailed & Built to Code: Rose Building Group provides detailed engineered drawings and specs for your project - to ensure everything is up to standard from start to finish.
High-Quality Materials: Only the best materials are used for your kitchen renovation in Hamilton from cabinets to flooring, Rose Building Group delivers on quality.
Prompt Communication: The Rose Building Group team works hard to set expectations and meet deadlines, providing all clients with clear updates on their kitchen projects. At the completion of your project, there will be a final walkthrough to double-check that everything is perfect and to your satisfaction.
Whether you get a new island installed or opt for functional storage, don't be surprised if the kitchen becomes your new favourite place to hang out in your home.
Rose Building Group Offers
Certified and expert contractors with years of industry experience.
All city building permits are obtained prior to the project.
One-year warranty on all of our projects.
During renovations, it can get messy, so along the way, Rose Building Group tidies up, so no there is no mess left behind.
Every contractor on the Rose Building Group team is covered by WSIB insurance.
Don't wait to transform your kitchen into the room of your dreams. Choose the home renovation contractors in Hamilton at Rose Building Group to revolutionize your kitchen with modern designs, layouts, and upgrades.
Still unsure about renovating your kitchen? Use the free estimate tool to see what options are available for you and your budget.