7 Ways To Renovate Your Master Bathroom In Oakville
Posted on November 22, 2021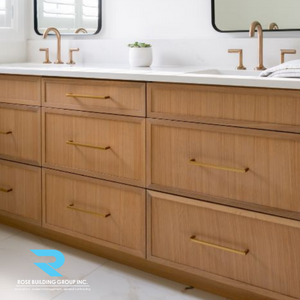 A master bathroom needs to be more than just a place for you to take a shower and brush your teeth. It's important to love your master bathroom. It's the room that you start and end your day in. If your master bathroom is outdated, not up to snuff, or just not comfortable, it can affect your mood. With the help of a home renovation company in Oakville, integrating a few small and subtle design features can turn it into a spa-like sanctuary that you look forward to enjoying time and time again.
Professional Bathroom Renovation Design Ideas
There are several ways you can make your bathroom experience more exciting. Whether you're looking to build up your bathroom's current look or undergo a complete bathroom renovation in your Oakville home to transform your once bland master bathroom into a luxurious space that you and your family admire, here are a few ways to spice it up:
1. Add a Limestone or Slate Tile Backsplash
Limestones and slates are both natural materials that add character and depth to any space. The look can be very easy on the eyes, but it isn't for everyone. Make sure to pick out the right tile for you! The Rose Building, a home renovation company in Oakville, can help you pick a material that matches your vibe but will also stay in trend.
2. A Vanity with Two Sinks
A double sink vanity is an excellent option for creating a light, open space if you have ample bathroom space.
3. Illuminate with Light
Adding skylights, overhead lights and/or task lighting will ensure that your bathroom is bright and airy. It will also help reduce shadows, which can make you appear older, heavier or just plain tired.
4. Full-Height Mirror
It may seem like a small detail, but adding a mirror with a total height of at least 5 feet is an easy way to instantly transform the feel of any room. Plus, with so many different styles, options and storage opportunities available for mirrors, you can find the perfect match for your personal style.
5. Choose Fixtures That Go Together
This is an essential part of bathroom renovation. To create a beautiful, cohesive design, it's vital that all of your fixtures coordinate with one another.
6. A Stand Alone Tub
The size of the tub has to be right for the space it will occupy, but once you've made that decision, you can choose any shape, depth, and material you like. Try adding an oasis of warmth with a freestanding tub with a simple straight side. It's a classic shape that will easily blend in with your existing decor. If you want to make a more dramatic statement, opt for a curved corner tub.
7. Upgrade Your Counters
If you are looking to remodel your master bathroom or just give it a facelift, changing your countertops is one of the easiest and fastest things to do. Your bathroom vanity can set the tone for the entire look of your space.
There are so many different countertop options available nowadays. Granite and marble are traditional favourites, but they aren't the only ones available, and they aren't nearly as expensive as they used to be, so if those don't interest you, then there are plenty of other options to choose from. The Rose Building Group bathroom renovation contractors would be happy to show you some of the trending countertops for the new year.
Ready To Renovate Your Master Bathroom?
It is very common for most homeowners to spend most of their time and resources on kitchen renovations and basement renovations as they dramatically can increase the value of one home. However, another important room that homeowners should not neglect is the bathroom. Master bathroom renovations are notoriously big home improvement projects, but they don't have to be. With the right small touches, you can transform your bath into a spa-like retreat. Contact Rose Building Group home renovation contractors for a quote today!