Back-To-School Home Renovation Ideas
Posted on September 18, 2023
As back-to-school season enters full swing, and the summer fades into the rearview, the rhythm of life undergoes a significant transformation. For many families, this shift to the new school year brings early mornings, busy kitchens, and the hustle and bustle of daily routines. As everyone's lives change to accommodate, it's a good time to consider home renovations in Hamilton. From bedroom and basement upgrades to bathroom and kitchen renovations in Hamilton, you can enhance the look, feel, and functionality of your home for happy learning and living. The leading renovation contractors at Rose Building Group are dedicated to turning luxury visions into reality using high-quality materials and expertise.
Read on to learn more about how you can give your home a back-to-school transformation with home renovations in Hamilton.
Kitchen Renovation in Hamilton: Enhancing Functionality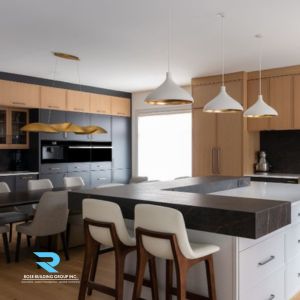 Mornings during the school year are hectic, with meal prep and breakfast rush. A kitchen renovation in Hamilton can help. Expand your countertop space and install a kitchen island for more workspace. Upgrading to energy-efficient appliances saves money and time. Organize cabinets with pull-out shelves and hidden storage. Adequate lighting is crucial for early mornings.
Bathroom Makeovers: Improving Comfort
Bathrooms are essential for quick routines. Consider dual sinks for shared bathrooms. Low-flow toilets and water-saving faucets conserve resources. Neutral colors and timeless tiles create a soothing atmosphere. Extra storage with built-in shelves or cabinets keeps toiletries organized. Luxurious additions like rainfall showerheads and soaking tubs enhance relaxation.
Bedroom Retreats: Ensuring Quality Sleep
Quality sleep is crucial for everyone in the family, especially during the school year. A well-designed bedroom can make a significant difference in the quality of rest each family member gets.
Start by selecting comfortable and supportive mattresses and bedding for each bedroom. Consider installing blackout curtains to ensure a dark and restful environment for a good night's sleep. Adequate storage solutions, such as built-in closets or under-bed drawers, can help keep bedrooms tidy and organized.
Personalize each bedroom according to your family member's preferences. For kids, create a fun and inspiring space with vibrant colors and playful decor. Teens may appreciate a more mature design with study areas and space-saving furniture.
Office & Work Space Upgrades: Enable Productivity
A dedicated place to work is helpful for adults and children who need to get through their workload. Whether you have a child with a homework list that needs to be tackled, or you spend your days working from home, a multi-purpose office with beautiful task lighting and open counter workspaces facilitates productivity and focus. By creating a welcoming environment away from the distractions of televisions and other devices, a home office or workstation allows you to buckle down and get through your work with greater ease and efficiency. Working with leading interior designers and renovation contractors at Rose Building Group you can choose the perfect set up for you and your family.
Basement Remodeling: Multipurpose Space
Basements offer additional living space for various purposes. By converting an unfinished basement into a family entertainment hub with a home theater or game room you provide a centralized location for guests, kids, for teens or college students to kick back and relax. Working with your renovation contractor, you can design beautiful bedroom and kitchen renovations in the basement to turn the space into a rental suite for students in the area, which will not only add value to your property but bring in passive income.
Start Your Renovations with Rose Building Group
Get your property ready for a new school year with functional and beautiful upgrades form the highly trained and experienced renovation contractors in Southern Ontario at Rose Building Group. Book a consultation and start bringing your vision to life.