Basement Theatre Renovation Ideas
Posted on September 29, 2022
When you consider basement remodeling, you might find yourself overwhelmed with the sheer number of design options. There are so many potential uses for a finished basement that it can be hard to narrow down your choices. One popular choice among families working on basement renovations in Burlington is a home theatre, which creates a shared space you and your loved ones can enjoy together.
Whether you want to spend more quality time with your family or you love to entertain guests, a home theatre basement gives you a designated "hanging out" space for everyone to enjoy together. Unlike a bar or designated playing area, a home theatre is a fun space for all ages. With the help of the basement remodeling team at Rose Building Group, you can ensure your vision is executed to perfection.
Here are some of the things you should keep in mind for your Burlington basement renovation.
Cozy Chairs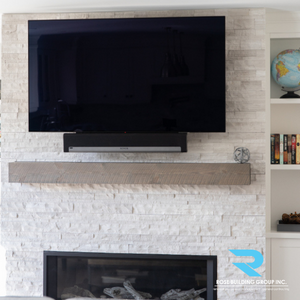 Nothing ruins a fun movie night quite like uncomfortable seats. Squirming and adjusting all film just to find the right spot can deter heavily from the movie viewing experience. Likewise, ensuring enough space for everyone will reduce the stress of having people over to enjoy your theatre.
Warm Floors
Burlington winters can get very cold, and no room in your house will feel quite as cold as your basement. Rose Building Group offers heated flooring options that turn cold basements into welcoming and cozy environments. Snuggling up with a blanket and enjoying a movie has never been easier!
Raised Seating
During your remodel, it's essential to keep in mind what the most comfortable position will be to watch the screen. Raised seating allows you to feel like you're at the theatre and not just sitting on an average sofa. It also allows you to see past the head of the person in front of you.
Dark Paint Colours
Though dark paint can seem like a scary prospect, it's the best choice for any home theatre. Like your local cinema, your darkly coloured walls will prevent unwanted reflection on your screen. Plus, the dark paint will give the room a touch of modern edginess. Rose Building Group offers customized solutions from start to finish. Choose from modern colours and wall finishes that are modern when the lights are on and dark when the lights go down.
Bathroom Installation
Don't miss the movie by including a bathroom in your basement renovation in Burlington. Avoid travelling up and down the stairs in the middle of family movie night by having an easy-to-access bathroom. Often in Burlington basement renovations, families choose to install a two-piece bathroom instead of the traditional 3 or 4. This can help cut costs and take up less space in your remodeling. Rose Building Group offers beautiful bathroom renovations in Burlington with a variety of customization options.
Soundproofing
Just because the home theatre was built for the whole family doesn't mean the entire family has to hear the movie from every room in the house. By installing soundproofing into your basement home theatre, you can keep movie nights confined to the basement and avoid bothering your neighbours.
Basement Renovation Contractors in Burlington
By bringing in professionals familiar with designing basement renovations in Burlington, you can save time, money, and effort throughout the renovation process. Rose Building Group combines their knowledge of basement remodeling with your unique needs to create a space that's right for you and your home. Rose Building Group is there from start to finish to help you build the basement of your dreams.