Modern Basement Renovations in Burlington
Customizable Layouts & Designs | Skilled Project Management | Cost-Effective Prices
Go Beyond Storage; Take Your Basement to the Next Level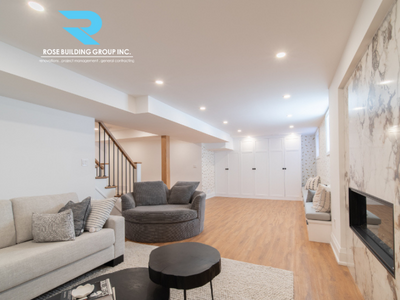 Basements often become the place where lesser used items and unwanted belongings are kept to reduce clutter in the other parts of the home. But your basement can be so much more than that with the right basement remodeling service.
Create functional space featuring neat and organized storage elements and livable space with basement renovations in Burlington and the Rose Building Group team. From design to execution, you can count on a beautiful and practical basement that makes sense for you.
When you renovate your basement with Rose Building Group, you choose high-quality workmanship from start to finish.
Revolutionize Your Basement
Is your basement unfinished and in need of some style? Or have you outgrown your current basement? Whatever it is, basement remodeling with Rose Building Group will bring your vision to life. With various style options, layout customizations, and high-quality basement renovation contractors in Burlington, you can create a brand new space that serves your home.
How Can You Enhance Your Basement?
Upgrading your flooring
Reducing clutter with storage
Incorporating an open layout
Modern customizations
And so much more
Design Your New Favourite Space
Whether you want to have a safe space for your kids to play or you need a large area for your small business, Rose Building Group can redesign your basement with top-quality materials and service. With endless customization options, it's tricky deciding on what type of basement remodeling you're looking for.
Below are some of the different ways you can upgrade your basement.
Finishing: Finishing your basement makes all the difference. With Rose Building Group's expert contractors, you can expect the basement to become your new favourite room in no time. Transform your cold, messy basement into a place where you relax and feel comfortable. In addition, a finished basement adds incredible value to your property. Add in new drywall, paint, flooring, and everything in between with professional contractors in Burlington.
Customizations: Don't stick the status quo. Customizations are what makes your basement renovation in Burlington, truly yours. The team of expert project managers, designers, and renovation contactors at Rose Building Group, will provide you with an array of high-quality options tailored to your style, so you can transform your basement into the most extraordinary home theatre, personal gym, bar, home office, play area for your kids, or anything else your heart desires.
Functional Layout: Modern basements offer open layouts and usable space to make the most out of the basement. The professionals at Rose Building Group can revamp your area from a closed or semi-floor plan into an open and modern basement in a flash.
Storage Space: Incorporating valuable storage space changes your basement's look and feel. Instead of clutter, opt for functional or hidden storage spaces integrated into your new basement experience.
Start your basement renovations with Rose Building Group today.
Why Homeowners Trust Rose Building Group
Homeowners in Burlington trust the contractors at Rose Building Group for high-quality home renovations and remodelings. When owning a home, you want people with prime materials and services you can count on, and that's exactly what Rose Building Group provides their customers.
Ready to start your basement renovation? Choose Rose Building Group to get started on your basement renovation project.