Bathroom Fixtures to Enhance the Finish of Your Home Renovation
Posted on November 07, 2022
The approach to home renovations in Oakville varies depending on the room that is being upgraded. Where bathrooms, living room, and basement renovations in Oakville allow significant room for creativity, bathrooms and kitchens which exist for a specific function can seem more limited. But, with a team of renovation contractors you trust, you can completely revitalize your bathroom. Some of the key upgrade opportunities with bathroom renovations lie in the fixtures. By carefully selecting everything from beautiful lighting to thematic tubs with the experts at Rose Building Group, your bathroom can feel like a brand-new modern space.
Here are the top bathroom fixtures that enhance the finish of your home renovation.
New Eye-Catching Bathtubs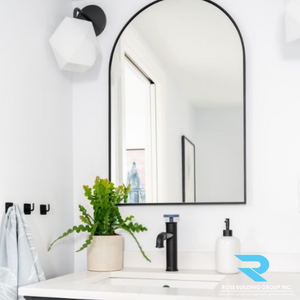 Some bathrooms feature a skirted bathtub and shower nestled in the corner of the room, which can be a great space-saving technique for small spaces or bathroom additions during basement renovations in Oakville. But where there is space, you can elevate the space by installing a stylish tub as a focal point. Freestanding tubs come in various shapes, styles, and sizes to suit your bathroom. Clawfoot tubs are popular for vintage or retro-themed spaces, while Japanese soaking tubs offer a sleek modern look while providing ample room for relaxation.
Modern Sinks & Faucets
Sinks are a non-negotiable fixture in bathrooms, so it just makes sense that they are factored into your home renovation in Oakville. There are many new and innovative sink designs on the market, from classic pedestal sinks and vessel sinks to trendy ramp sinks. You can choose a beautiful replacement sink that enhances the theme of your bathroom. For modern bathroom renovations, homeowners often opt for minimalist flat, square, or glass basins. Whatever you choose, the Rose Building Group team offers innovative design tips and expert plumbing installations for a functional and beautiful bathroom finish.

Illuminating Light Fixtures
When planning home renovations in Oakville, lighting is fundamental, especially with bathroom renovations. Not only do the light fixtures you choose have to fit thematically with your redesign they should also provide optimal illumination without compromising visibility with shadows. Vanity light fixtures installed on the wall above mirrors are great for grooming, makeup application, and getting ready for the day. But in larger bathrooms, homeowners can take their design up a notch by installing chandeliers above the tub to enrich the ambient lighting in the room.
Upgrade to a Rainfall Shower
Switching to a new showerhead not only upgrades the look of your bathroom but also upgrades the shower experience. One of the biggest trends of the last few years is rainfall showers. Not only does the smooth water flow improve relaxation, but the luxury shower addition also allows you to feel like you're being pampered during every. Modern shower faucets come in a variety of finishes, from matte black and stainless steel to glass. There are many options to choose from.
Expert Home Renovations in Oakville
If you're looking for a home renovation company in Oakville that you can trust, Rose Building Group is here to save the day. With decades of first-hand experience and a record of satisfied customers, you can upgrade your bathroom with confidence.