Modern Basement Renovations in Oakville
Premium Planning & Design | Top-Quality Materials | Expert Experience
Have you been dreaming about renovating your home and finishing your basement?
As a leading home renovation company in Southern Ontario, the Rose Building Group team has what it takes to transform your basement into the perfect space. You can be confident about your basement renovation in Oakville with high-quality materials, expert craftsmanship, and cost-effective pricing.
When you choose Rose Building Group for your custom home renovation in Oakville, you're choosing years of firsthand experience in planning, designing, and construction.
Make Your Basement The Perfect Retreat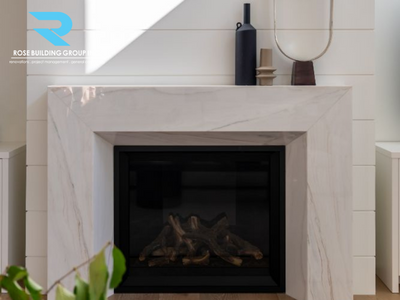 Has your basement become a place for storage? Don't worry; Rose Building Group has the skills to curate the perfect basement renovation project based on your preferences and budget.
Unfinished basements are often cold, dark, and depersonalized rooms, but with basement renovations in Oakville, you can upgrade your space to a functional living area.
Rose Building Group offers:
Fixture Installation
Structural & Electrical Work
Staircase Resurface or Remodel
Drywall & Plumbing Installation
Flooring or Carpet Installation
Enhance Your Basement Renovation in Oakville
Whether you want a home bar, personal gym, an arcade room, or an additional bedroom, reimagine your basement with various style options and customizations from the expert home renovators at Rose Building Group.
Lighting: Lighting can make you break your basement renovation, and since most basements are underground, they get minimal natural light and make the room dark and cold. Whether you want an additional kitchen or living room, you'll need ambient lighting that matches your theme and brightens your space. The team at Rose Building Group are highly experienced in implementing customizable lighting and design, helping you illuminate your basement and achieve your desired look in no time.
Finishings: Add new drywall, flooring, paint, and everything in between to completely transform your basement. Say goodbye to your dull and unfinished room and hello to a comfortable, relaxing, and warm retreat with professional home renovations in Oakville.
Layout: Whether you want to remodel your basement into a rented-out living space, kitchen, movie theatre, home office, or another living room, the professionals at Rose Building Group can get the job done in no time. Tear down walls or incorporate more for division - whatever the case, the experts at Rose Building Group are confident you'll love your new and improved basement.
Customizations: Perhaps you want to refurbish or remodel your staircase, install a new fireplace, or change the theme of your basement but don't know where to start. Thankfully, the project management team at Rose Building Group can help! With professional planning and design from start to finish, your basement can be remodelled into anything of your dreams.
Trust the Renovation Contractors at Rose Building Group
For decades, homeowners in Oakville and elsewhere in Southern Ontario have trusted the team at Rose Building Group to effectively renovate, remodel, and design their homes into something beautiful. You can count on the contractors at Rose Building Group to go beyond your expectations, providing high-quality materials and service to all clients.
Ready to renovate your basement? Choose Rose Building Group to take your remodel to the next level.