Bathroom Renovation Additions that Elevate Your Space
Posted on August 14, 2023
Bathroom renovations in Oakville are an excellent way to revamp your home. Changing the aesthetics and functionality can enhance your home experience. Often, homeowners will redo a room in their home simply for a new change or to increase their property value. With bathrooms being one of the most visited areas of the house, you are given the opportunity to change the whole trajectory of your home. Whether you want to go eco-friendly or more tech-centric, Rose Building Group can help make it happen. The team does various projects, including kitchen and bathroom renovations in Oakville. The aim is to provide comfort and high-quality home renovation services to clients across Oakville, Hamilton, and Burlington.
Keep reading to explore potential additions to your bathroom that can elevate the space.
Adequate Storage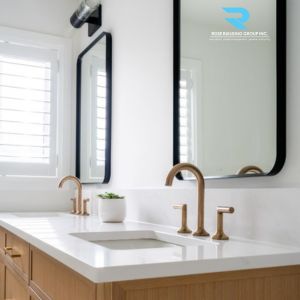 Bathrooms can quickly get messy, with early mornings or running late for work. Surfaces can easily get populated by cosmetic products and clutter. The mess can easily make the room 10 times less appealing. If you are working with a smaller bathroom, storage space can help to open up the space, creating a bigger illusion. Vanities should have adequate storage space and an area for towels and other housekeeping products to populate. This way, you always have what you need in your bathroom. Consult a home renovation contractor to plan the optimal layout for your bathroom.
Heated Floors and Other Technology
Create optimal comfort in your bathroom with advanced technology to go the extra mile. Heated floors for after the shower, a heated towel rack, or a bidet can elevate the space and increase the value of your home. Heated flooring is excellent for colder materials like ceramic tiles or stone. If these are outside your budget, many alternatives exist to elevate your space. Fear not if these options are beyond your current budget, as numerous alternatives exist to upgrade your bathroom space without breaking the bank.
Separate Tub and Shower
If your space is adequate in size, think about separating the tub and shower to create a serene experience in the bathtub. By separating the two, you are curating two experiences; the shower is a quick and easy option, while the bath is a relaxation sanctuary. You can add a steam option to the shower if you want. Separating the tub and the shower can add value to your home, though remember that the tub will need extra plumbing.
You may want to consider changing out the shower head of the shower to multiple shower heads or a rain shower. Having multiple creates variety to reach all the spots so no soap is left behind.
Cohesive Interior Design
Ensuring a neat and cohesive design is crucial for elevating your bathroom space. To achieve your dream bathroom renovation in Oakville, meticulous attention to detail and working alongside seasoned professionals are critical. The skilled contractors at Rose Building Group will guide you through this transformative process, bringing your vision to life. Together, you'll embark on a journey toward creating the ideal bathroom that reflects your unique taste and style.
Rose Building Group for Your Bathroom Renovation
When looking for a renovation company in Oakville, call Rose Building Group. To ensure client satisfaction, the team is exceptionally skilled, talented, and customer-oriented. Contact Rose Building Group today to get started on your bathroom renovations.