Bathroom Renovation Ideas for Couples
Posted on February 10, 2023
Whether you're newlyweds, couples moving in together for the first time, or just find yourself endlessly in the honeymoon phase of your relationship planning bathroom renovations in Oakville, you may find yourself looking to make your home more conducive to two people. From the day you first move in together to your second and third home, romanticizing your home can always give you something to enjoy together. With expert guidance and workmanship from the Rose Building Group team you can transform your home into the perfect couple's oasis with home renovations in Oakville.
Read on to learn more about bathroom upgrade tips for couples.
Double Everything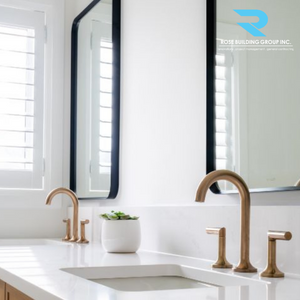 Sharing can be romantic, but being crammed into a tight space together is just plain frustrating, particularly when it comes to bathrooms. This can get especially tiresome when you're both trying to get ready in the morning. To spare yourselves any added stress during your morning routine, consider doubling up on all your bathroom essentials as you plan your bathroom renovations in Oakville. That means double sinks, two showers and plenty of cupboard space for both of you. This way, you and your partner can both get ready without feeling like you're fighting for space.
Large Countertops
An Oakville home renovation is a great time to make your home more functional. It may not seem like the most romantic styling choice, but prioritizing functionality can give you both peace of mind later on. Large countertops allow you to spread out in the bathroom while still having all your necessities at arm's distance. It also gives you a chance to showcase your style with unique materials or personalized décor. Talk to the leading renovation contractors in Oakville to determine the best materials and sizes for your countertops.
Styles and Themes
Once you've taken care of your space's functionality, it's time to turn your attention to your bathroom's style. Whether you and your partner love the relaxing look of smooth, clean lines or the warmth of deep wood tones, the theme you choose can set the tone for any room! Get guidance on how to take your new bathroom style by bringing in a team of experienced home renovation contractors like those at Rose Building Group.
Bathroom Light Fixtures
Nothing kills a mood quite like cold, harsh lighting right. Finding alternative solutions to your lighting setup can help take your bathroom from a dull space to a dream room! Chandeliers, pendant lights and even flash-mount ceiling fixtures can give your bathroom a completely different ambiance. And by adding more warm-tone bulbs and dimmable lighting fixtures, you can be assured that your lighting is never too harsh or bright.
Increase Your Storage
A home renovation in Oakville is a perfect time to invest time in improved storage solutions that are just right for your home and your partner, especially when it comes to sharing a bathroom. Whether that means larger cabinets in your vanity or more hooks to solve your wet towel disputes, having the right storage solutions in your life can make it easier to find your calm.
Upgrade Your Bathroom with Luxury Home Renovation Contractors
Make your bathroom a sanctuary for just the two of you by embarking on an Oakville bathroom renovation with the team of experienced contractors at Rose Building Group. From the planning stages to the execution, you can find all the guidance you need and more.