Bathroom Renovation Ideas Perfect for Couples
Posted on October 26, 2023
Undertaking a bathroom renovation in Burlington as a couple is an exciting journey filled with creativity, collaboration, and the promise of a revamped bathroom. Whether you're a newlywed or a couple that has stood the test of time, home renovations and bathroom upgrades are not just an opportunity to enhance the aesthetics and functionality of your bathroom but also a chance to deepen your connection with your partner while working on a shared project. Working with the leading home renovation contractors in Southern Ontario, Rose Building Group, you can explore modern bathroom renovation ideas that will inspire you and your partner to co-create a sanctuary that blends your styles and caters to your daily needs. Whether your goal is to transform your bathroom into a spa-like retreat or optimize it for a smoother morning routine, Rose Building Group has the answers.
Craft the Plan and Budget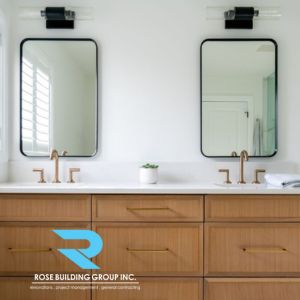 The foundation of a successful renovation venture is a well-structured plan and a reasonable budget. Before you can get started on your bathroom renovation, it's essential to sit down together and engage in open discussions about your vision, preferences, and budget. Begin by visualizing a shared concept of your dream bathroom with Rose Building Group, considering elements like colour palettes, layout changes, and desired fixtures. As an experienced home renovation contractor, skilled experts will help you navigate your choices from materials to layout. the.
Melding Your Unique Styles into the Design
Your bathroom should reflect your individual tastes while maintaining a cohesive design. It's a space you both will frequent daily, so it should cater to your preferences and be visually harmonious. Start by discussing the design style that resonates with both of you, whether it's modern, traditional, minimalist, or an imaginative fusion of styles. Combining elements from various styles can create a distinctive and personalized space. For instance, if one of you favours vibrant colours and the other leans towards a neutral palette, consider integrating both in the decor. Find common ground in fixture choices, flooring, and accessories to build a balanced and inviting ambiance. Don't overlook the importance of incorporating personal touches such as artwork or cherished mementos, turning your bathroom into a genuine representation of your relationship.
Efficiency and Practicality
Functionality should a priority when it comes to home renovations in Burlington, especially the bathroom. Consider how you can streamline your daily routines and make your bathroom more user-friendly. Rose Building Group can help evaluate the bathroom layout and provide insights on how to best optimize it according to your needs. If space permits, the addition of double sinks can be a game-changer for a couple sharing the space. Or if you want more space, talk to the Rose Building Group home rneovation team about how you can expand the size of your bathroom.
Adequate storage is another imperative; whether through built-in cabinets, floating shelves, or vanity storage, ensure both of you have the space you need. Consider water-saving fixtures to reduce your environmental footprint and cut utility costs. A rainfall showerhead and a deep soaking tub can introduce a luxurious touch to your daily ritual. Prioritize elements that enhance convenience, rendering your bathroom a place where you both can relax and prepare for the day ahead. Professional home renovation contractors, Rose Building Group, can guide you through these decisions, offering the best advice possible.
Opt for Long-lasting Materials
As a couple, you're making decisions that will impact your bathroom for years to come. Opt for materials that prioritize durability and quality. In high-moisture environments like bathrooms, it's crucial to opt for materials that can withstand the conditions without needing constant upkeep. Ideal choices for flooring and shower walls include materials like ceramic or porcelain tiles, renowned for their water-resistant properties. Invest in a sturdy vanity and countertops that can withstand daily wear and tear. Granite and quartz are excellent choices, celebrated for their resilience and timeless appeal. Choose finishes that are easy to clean and maintain, guaranteeing that your renovated bathroom remains in prime condition for the long term.
Streamline Your Bathroom Renovation Journey with Rose Building Group
With the help of Rose Building Group, renovating your bathroom with your loved one can be a bonding experience that strengthens your relationship and results in a beautiful and functional space. By planning, designing, and collaborating effectively, you'll not only achieve an exquisite bathroom but also create enduring memories that you'll treasure for years to come. Through good planning, thoughtful design, a focus on functionality, durable material choices, and an appreciation of the journey, Rose Building Group, with more than 15 years of experience, can transform your bathroom into a space that reflects your personalities and enhances your daily lives.
Embark on your renovation adventure today and create a bathroom that truly represents both of you.