Modern Bathroom Renovations in Burlington
Your bathroom is where you start and end your day. Make it a room you love with the bathroom remodelling contractors at Rose Building Group. Design and execute a beautiful and modern bathroom renovation in Burlington that's stylish and functional.
Classic | Modern | Functional
A bathroom renovation in Burlington will transform your space, whether you're focusing on just your primary or master bathroom, an en-suite bathroom, or a powder room. Working with talented and experienced designers and bathroom remodelling professionals in Burlington, your home will feel brand new for you and your guests.
Designing Your Dream Bathroom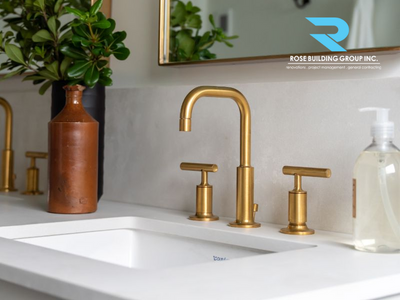 Bathrooms are naturally fixture-focused, but when upgrading yours, there is a lot you can do to personalize and modernize your space. With the Rose Building Group, bathroom remodelling contractors, you can update your:
Showers & Tub: Your shower and bathtub are the centrepieces of your bathroom; install a modern stand-up shower with glass walls or opt for a vintage clawfoot bathtub.
Tiles & Flooring: Tired of stepping on a cold bathroom floor every morning? Keep your feet nice and warm with heated floors. Or switch up your tiles and backsplash.
Accents & Walls: There's no reason your bathroom can't look like it belongs in a magazine. Add patterned or coloured accent walls for the perfect backdrop for your daily life.
Storage & Space: Make sense out of your space with smart bathroom planning and design. At Rose Building Group, we'll help you add smart and hidden storage so you can maximize your storage and bathroom organization.
Plumbing & Electrical: A beautiful bathroom renovation in Burlington still must run well. We'll replace old and deteriorating plumbing and electrical fixtures for a safe and reliable bathroom.
Benefits of Bathroom Renovations in Burlington
On the fence about renovating your home's bathrooms?
Bathroom remodels are an investment in yourself and your home, increasing your property value and home comfort. Whether you're moving into a new place or ready for a fresh feel in your home, the right bathroom remodelling contractors will help you breathe new life into your Burlington house that makes it truly feel like home.
Choosing the Best Bathroom Contractors in Burlington
For the best bathroom renovation results, you need the best bathroom remodelling contractors in Burlington.
Why Choose Rose Building Group for Your Bathroom Renovation?
Building to Code: For hassle-free and high-quality bathroom renovations in Burlington, the Rose Building Group team uses city permits for all of our home and bathroom renovations, ensuring everything is up to code.
Insured Renovation Contractors: We protect ourselves and protect you with $5 Million liability insurance and WSIB (Workplace Safety Insurance Board) coverage, so your renovation is always stress-free.
High-Quality Workmanship: We take pride in every bathroom remodel and home renovation in Burlington that we do. From the materials to the workmanship, you can trust that you'll see premium work every time at Rose Building Group.
Trusted & Recognized: Not only are we a 5-star renovation company in Burlington and Ontario, Rose Building Group has been featured on HGTV and trusted among the local community for the best bathroom and home renovations.
Custom Renovations: It's your home and your renovation. At Rose Building Group, we aim to help you bring the most beautiful version of your vision to life. You can choose the style and design, and we'll execute it to perfection.
Start Planning Your Bathroom Renovation in Burlington Today.