How to Be Proactive About Water Damage with Bathroom Renovations
Posted on November 17, 2023
Bathroom renovations in Oakville are a great place to start your home renovations. A newly upgraded bathroom or even powder room can elevate your space, your comfort at home, and even your guest experience. For the best outcome with bathroom renovations, building a plan that avoids future complications or challenges, especially water damage, is essential. Working with experienced home renovation contractors in Oakville at Rose Building Group, you can build a beautiful and functional space that mitigates opportunities for water damage.
Why Consider Water Damage in Your Renovation Plan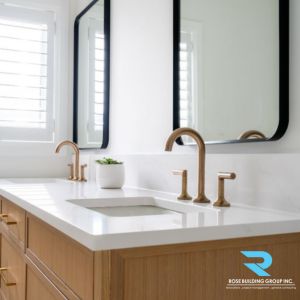 Water damage is a common challenge faced by homeowners across Southern Ontario. One room that is particularly vulnerable to leaks and overflows is the bathroom because of its heavy dependence on plumbing and water-based functionality, from the shower and sink to the toilet. When floods occur in unequipped spaces, they can result in warped wood, mold, and electrical damage. But when you plan your bathroom renovation in Oakville with the skilled home renovation contractors at Rose Building Group, the team will guide you through the best options for water-heavy spaces for optimal results.
Explore our tips for high-quality bathroom renovations in Oakville.
Choose the Right Flooring
Traditionally, the most common materials used for flooring during construction or bathroom renovations in Oakville have been standard square tiles. Tiles are an ideal choice for water damage because they are non-porous, making water easier to mop up while also preventing mold from growing. Unfortunately, tiles can be cold for bare feet in the morning, or when stepping out of the shower, so many home renovation contractors recommend heated bathroom floors. Heated bathroom floors are a beautiful and comfortable addition. Still, they should always be installed by a skilled professional who understands how to skillfully install the product to avoid any electrical materials contacting water.
High-Quality Fixtures & Installation
A common cause of bathroom water damage is aging, damaged, or ineffective bathroom fixtures. To prevent instances of leaks and flooding in your newly renovated bathroom, talk to your renovation contractors at Rose Building Group about the best fixtures for durability and performance. For bathroom renovations in Oakville, it's always recommended to opt for high-quality materials which are more durable to pressure or damage, such as brass or aluminum. In addition to being stronger than plastics and some iron alloys, these metals are also more corrosion-resistant, making them less susceptible to leaks over time. It also helps you to install water-saving fixtures; not only will these help you reduce water waste but they are often designed with advanced sealing technology and mechanisms that minimize leaks and water damage.
Minimize Materials that Attract Mold
On its own, water damage can cause a myriad of problems in a bathroom, but what's worse is mold, which can start to grow in just hours following leaks and flooding. To prevent the onset of mold-related damage, curate a bathroom design with your home renovation contractors that minimize factors conducive to mold. Talk to the Rose Building Group team about maximizing ventilation, large-width tiles to reduce grout in your shower and floors, and marble countertops instead of wood.
Renovation Contractors Experienced with Plumbing
If you're redesigning your space completely, installing pipes and plumbing fixtures the right way is imperative. When working on bathroom renovations in Oakville, Hamilton, Burlington or anywhere in Southern Ontario, the home renovation contractors at Rose Building Group works with experienced plumbing contractors and their team of professional renovation experts to ensure that every element of your plumbing is installed correctly to avoid mishaps in the future.
Protect Your Bathroom Renovations with Rose Building Group
Build a bathroom you love that goes the distance with the leading home renovation contractors in Southern Ontario at Rose Building Group. From design to execution, our team of renovation contractors offers livable designs that balance functionality and beauty.