Cost-Effective Bathroom Renovation Tips in Oakville
Posted on March 20, 2023
When you're planning your bathroom renovation in Oakville, there's a lot that must be taken into consideration as you nail down your plans. As you consider materials, design options, and fixture upgrades, you'll want to ensure that your home renovation in Oakville is a budget-friendly and cost-effective investment that can deliver long-term financial and emotional benefits. You can produce a high-quality bathroom renovation in Oakville within your budget by harnessing these tips for a cost-effective final product.
Follow these tips to keep your bathroom renovation in Oakville within budget:
Plan Ahead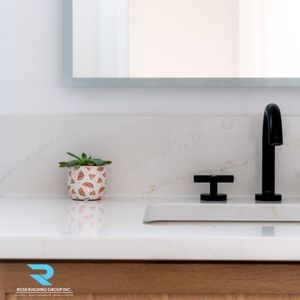 The first step when undertaking a cost-effective renovation will always be to plan. Planning with a team of professional home renovation contractors in Oakville will help minimize the time it takes to complete your bathroom renovations. It also enables you to avoid last-minute decisions that may lead to unintended consequences that will cost you more in the long run. By planning ahead, you can take your time to find the best possible deals without settling on quality.
Focus on Key Areas
Keeping things cost-effective doesn't mean you shouldn't spend much money. It means spending money on the right things. By saving on your more replaceable items like lighting and décor, you can spend more on the things you'll appreciate. Whether that means installing a larger tub to help you relax or adding in a double sink to make the most out of your space, allocating a more significant portion of your budget to key areas will make your money go further.
Get an Estimate
Before you start executing your renovation plans, most homeowners will have a vision of what they want their home to look like when the process is complete. To ensure you can create a budget that makes sense for your bathroom renovations to ensure you get the bathroom you've always dreamed of.
Choose Long-Lasting Materials
The most cost-effective choices are the high-quality materials that deliver over a more extended period of time. Choosing luxury items and well-made materials for your showers, light fixtures, vanities, and floorings with guidance from an experienced home renovation contractor in Oakville, like Rose Building Group, will help minimize future replacement and maintenance costs or the expense of another home renovation in Oakville in the near future.
Save the Best Elements of the Existing Space
Just because you're committing to a brand-new bathroom doesn't mean there aren't aspects of your current one worth saving. Many fixtures, like tubs, toilets and sinks, are designed to last a long time and offer character to a space. By changing the design elements around the features you want to keep and restore, you can design a beautiful space while also saving on unnecessary costs.
Choose Energy-Efficient Additions
Similarly to choosing high-quality materials, your investment will result in energy savings month after month by choosing energy-efficient additions to your renovation. Whether that means LED lighting fixtures or water-saving toilets, integrating these products can make your renovation a cost-saving investment when your utilities come in every month.
Expert Luxury Renovations in Oakville
Embark on your reservation and transform your bathroom and home with high-quality materials, premium workmanship, and luxe results that deliver years of enjoyment with Rose Building Group.