Details that Enhance Your Bathroom Renovation in Burlington
Posted on February 17, 2023
When planning and executing bathroom renovations in Burlington, elements such as shower fixtures, layouts, and flooring tend to keep you busy, especially during the early stages of the project. While all of these components are incredibly important, there are plenty of smaller details that can completely change the direction of your new bathroom and enhance the finished product.
When working on your home with leading home renovation contractors in Burlington, focusing on accents and details will allow you to let your personality and style shine through, setting your new and updated bathroom apart. For guidance on these details, bring in experienced Burlington contractors like the team at Rose Building Group.
Read on for the details that can enhance your Burlington bathroom renovation.
Cabinets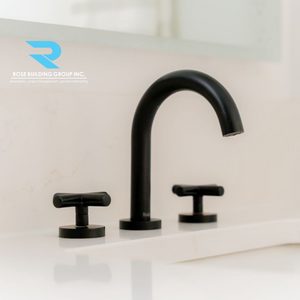 Are you going bold or simple? Minimalist glass or regal woodwork? Your cabinets set the tone for the rest of your bathroom renovation. Cabinets are a great space to pick what kind of bathroom you want, and what you want people to feel when they walk in. From warm and comfortable to simple and relaxing, choose the materials and colours that reflect your personal taste to get the most out of your bathroom renovation in Burlington.
Countertops
Similar to cabinets, countertops can complement the style you've chosen for your space, and there are a variety of modern counter options available. Stone countertops are more popular than ever, and many homeowners opt for simple marble patterns that are known to stand the test of time. Whichever countertop you choose should balance the aesthetic you've curated for your upgraded bathroom.
Mirror
You look into your mirror every day, so why not install a mirror that makes an impact. It may seem like most mirrors are the same, but there are many styles and shapes that you can choose. Some of the most popular mirrors among bathroom renovation contractors are equipped with thin matte black or brass trims, maximizing the mirror space.
Flooring
It may be easy to look past your floor and opt for a traditional bathroom tile, but the right flooring can utterly transform your space. From the colour and patterns to textures, flooring has a huge impact on the overall presence of your bathroom. Since bathrooms tend to be damp, wet environments, the material you choose for your bathroom floor can also have a huge impact on your life. The best flooring options for your bathroom renovation depends heavily on the style, theme, and size of your bathroom after the renovation. Many homeowners opt for light colours in small bathroom renovations and dark colours for larger spaces. For help finding and installing your bathroom flooring, you can count on the Burlington bathroom renovation experts at Rose Building Group.
Unique Tubs
Renovations are all about taking your space and catering it to your specific lifestyle needs and tubs are no exception. By foregoing traditional styles, opting for a more unique alternative, you can give yourself a tub you'll genuinely love to use. Whether that means putting in a long tub so you can stretch your legs out at the end of a stressful day, or adding in a crevasse for you to place your head when you lean back, you can make your tub a relaxing oasis just for you.
Bathroom & Home Renovation Contractors Burlington
Of course, all these details can be hard to juggle all by yourself. Contacting an experienced team of contractors in Burlington can help you manage every aspect of your bathroom renovation and alleviate some of the stress that comes with it. For the best materials and results, talk to the Rose Building Group team. From planning and design to execution, Rose Building Group renovation contractors in Burlington can do it all.