Enable a Healthier Lifestyle with Kitchen Renovations in Hamilton
Posted on January 23, 2023
Changing your lifestyle can be a difficult task, even when it is for the better. Upgrading your kitchen with skilled renovation contractors in Hamilton is one way to make a difference. The kitchen is the heart of the home, a lively space where many health decisions are made for you and your family. With key design elements, your kitchen renovation in Hamilton can help you start living healthier while maintaining habits that support a healthier and fitter you.
A good smart redesign will facilitate healthier behaviour, reinforce positive habits and maximize convenience. Read on to learn how you can encourage healthier living with expert kitchen renovations in Hamilton. Reach out to our team at Rose Building Group and be connected with kitchen renovation contractors in Hamilton who are experts.
Intuitive Layout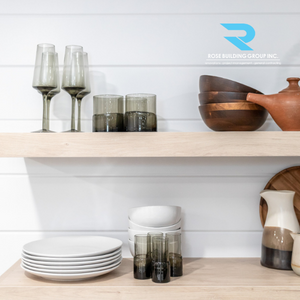 When you can't access all the ingredients you need in an efficient manner, preparing a healthy meal can be difficult. Make meal prep quicker and more straightforward with easy-to-access appliances and ingredients. Ensure there is substantial cupboard space near sinks and cooking appliances to enable efficiencies. Ultimately, you will even save time cleaning up when the area flows efficiently. If you need help with the most efficient layout for your kitchen, let our experts help you figure it out.
Space for Produce
Dedicating space to produce is the best way to ensure said produce is consumed and you are not throwing out soggy veggies at the end of the week. People are more likely to grab something quick and convenient, so have a dedicated space for fruits and vegetables and watch how quickly they disappear. A healthier lifestyle should include more fruits and veggies, so make them easily accessible.
More Work Stations
All the fruits and vegetables mentioned above will need to be chopped and sliced, so make plenty of room for them in your kitchen renovation. More counter space means a less cramped workspace. The more workspace you have, the more help you can employ. More hands make the work less daunting and can also be a fun bonding experience.
Storage Opportunities
Digging around to find a frying pan is an irritant. And if you do not find the pan, are you still going to cook? Same with your blender, stand mixer, bowls, cups, and more. Easy access to these items is crucial to a joyous cooking experience, so consider storage opportunities during your kitchen renovation in Hamilton. Consider the style of your refrigerator, counter space, drawers, and flat surfaces that best suit your needs. Break it down even further by considering various crisper drawers, cutting boards, knife blocks, and more.
Establish a Welcoming Environment
Bring some of your own flair to your kitchen space by adding unique decor. Make lighting a priority– let the sun in through large windows, and get fixtures that provide ample warm lighting. Keep your kitchen tidy and inviting by keeping it well-lit.
Kitchen Renovations with Rose Building Group
To live more mindfully, the food you eat is imperative. Easy access to healthier food will encourage the whole family to eat more fruits and vegetables. Make the heart of your home an enjoyable one. Reach out to our team of expert renovation contractors in Hamilton at Rose Building Group, and get on your way to a healthier lifestyle now. Rose Building Group can help you renovate your kitchen for a more nutritional quality of life.