Energy Efficiency Home Renovation Ideas
Posted on January 30, 2023
A home, bathroom, bedroom, or kitchen renovation in Hamilton is not only a chance to modernize your property with contemporary design and stylings, but also a great opportunity to retrofit your home with energy-efficient appliances that will save you each month on your home utility bills. Reimaging your space visually and functionally will add value to your home and improve the practicality of your space. Read on for quick tips on energy-efficient appliances, and for further guidance, consult one Rose Building Group, the experienced home renovation contractors in Hamilton.
Energy-Efficient Kitchen Lighting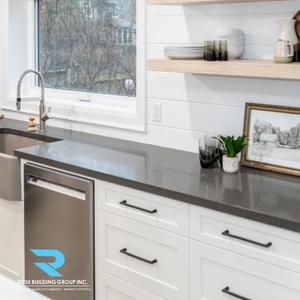 A great first step on the road to creating a more energy-efficient home is finding the right lighting. Anyone that's spent time in the kitchen knows how important it is to have sufficient lighting to be able to see your work. By installing LED or CFL lighting, you can save on your monthly utility bill without having to sacrifice brightness. Though many modern lighting sources come ready to handle LED and CFL lighting, older lights may need to be re-lamped or replaced. Working with your home renovation contractors in Hamilton, you can find beautiful and modern light fixtures that save energy without compromising illumination.
Energy-Efficient Appliances
The star of every kitchen—besides the chef, is its appliances. With the right appliances, you can take your cooking experience from a tedious chore to a relaxing hobby. The only thing better than finishing your Hamilton kitchen renovation with new appliances is finishing it with new energy-efficient appliances.
Upgrade Your Faucet
You may not realize it, but the faucets you use in your kitchen can make a huge difference in your home's utility bills. Water waste doesn't just happen when you're running your taps. The wrong faucets can leak and drip without you noticing, leaving you wasting much more water than you even realized. By bringing in a team of Hamilton home renovation contractors like those at Rose Building Group, you can get tailored advice on what faucets will work best for your home.
New Doors & Windows
Over time, our doors and windows just don't seal in air like they used to. Eventually, you'll notice your doors and windows aren't helping you properly manage the temperature inside your home. If your kitchen has any windows or doors, you may also notice that temperature affects your cooking and the hospitality of your kitchen area. Updating your windows and doors to be air-tight, but also easy to work with can take your Hamilton kitchen renovation to the next level.
Install New Insulation
When insulation is working for your home, it helps keep hot air in during the winter months and out during the summer. This means your heaters will be working less in the cold, and your air conditioner can take it easier during the hotter season. However, insulation can only last so long. Depending on how long you've had your insulation, and the type of insulation it is you may be losing effectiveness in your insulation. By replacing your insulation during your renovation process, you can save your future-self money on climate-control while also upping the value of your home in the process.
Home & Kitchen Renovation Contractors in the Hamilton Area
Maximize your home renovations with the leading renovation contractor team in Hamilton and Southern Ontario. Rose Building Group will help you get the most value from your renovations. Contact us today to start designing your new home.