Essentials to Achieve a Modern Kitchen Renovation
Posted on August 23, 2022
Your kitchen is your home's daily hub, watering hole, and snack zone. It's no wonder that focusing on kitchen renovations in Burlington can impact the style of the rest of your home. Once you've transformed your kitchen, it can act as the blueprint for the rest of your home. If you know your home needs an update but are not ready to commit to full home remodeling, it might be time to focus on a kitchen renovation. The team at Rose Building Group are experts in kitchen renovations and can help you achieve the modern kitchen you've always dreamt of.
Below are ways you can achieve a modern kitchen renovation.
Open Concept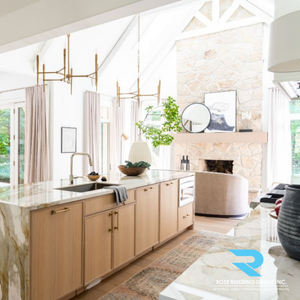 If there's one thing that can completely reinvigorate your home, it's converting your kitchen into an open concept space. Opening up your space can make for a better flow within your home and make the kitchen a significantly more inviting space. Though it can seem intimidating to take down walls and change the room of your home entirely, when you have the right Burlington kitchen renovation team on your side, things become a lot more accessible!
Islands
Adding an island or peninsula to your kitchen makes it a functional space for daily life. An island perfectly complements an open concept kitchen by giving you an extra workspace for cooking without isolating the chef. And adding cabinets to your island can give you that extra storage space, making it easier to maintain a clutter-free kitchen.
Marble or Granite Countertops
Having the right countertops can make or break your kitchen. Granite or marble countertops not only look sleek and modern, but they're also incredibly durable. With these countertops, you can cut, chop and spill without fearing stains or scratches.
Pendant Lights
Adding pendant lighting to your kitchen will do wonders to modernize it. Pendant lights allow you to play with different levels in your kitchen space. With the right pendant lights, you can make your room more dynamic while giving yourself the illumination you need to be productive in the kitchen.
Hardwood Over Tiles
Many classic kitchens feature the same simple tile pattern that starkly contrasts the flooring in the rest of the home. By giving your kitchen hardwood flooring, you can step away from the dated tile look to a style that fits more seamlessly with your whole house.
Cabinets & Backsplashes
Your cabinets and backsplashes are the perfect spots to let your personality come out and shine, from sleek, simple cabinets paired with intricate backsplash patterns to contrasting colours. Ideally, your cabinets and backsplash will complement each other to create an overall aesthetic that's modern but still true to you.
Trending Colours
Whether you're just focusing on your kitchen or doing a full home remodeling, colour is where you can have the most fun. You can keep it simple with soft tones or boldly with bright, unique colours without affecting your property value because you can just paint over it.
Why Choose Rose Building Group
While there's always space for personal touches, working with a team experienced in Burlington kitchen renovations can help you blend chic trends with your unique style. With Rose Building Group, you can get the help you need to create a kitchen space that you genuinely love.