Guide to a Rustic Kitchen Renovations Oakville
Posted on February 27, 2023
Rustic stylings have been a staple in the interior design industry for years. With its warm, natural and cozy feel, a rustically designed home can help you feel closer to nature and the outdoors. It's no wonder it's such a classic and timeless aesthetic. Often, these designs will incorporate natural materials such as woods, stone, or linen to create an inviting and comfortable atmosphere. Additionally, these designs tend to evoke feelings of nostalgia, reminding us of simpler times or connecting us to the past. When it comes to kitchen renovations in Oakville the team of experienced home renovation contractors at Rose Building Group are equipped with the experience and skill to help you balance the rustic ambience you love, with the modern tools you need.
Here's your simple guide to implementing rusting styles in your home renovation.
Room Colours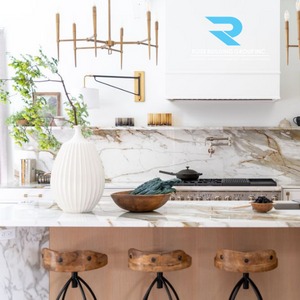 Rustic styling is all about warmth, that's what gives it the distinctly welcoming feeling. So, it's important to prioritize bringing in warm tones to your kitchen renovation. Whether that comes from rich wooden hues throughout the space, or brass accents scattered around your kitchen, the warm tones give your kitchen that distinctly rustic feeling.
Light Choices
You may think of lighting as an afterthought but nothing ruins warm, rich tones like fluorescent lighting. And nothing makes a kitchen harder to work with than low lighting. When it comes to lighting your newly renovated Oakville kitchen, you want to make sure it's both functional and complimentary. Bring in warmer tungsten lights and use soft lighting fixtures to diffuse the light and create an effect that mimics natural sunlight. Adding plenty of windows can also add to the overall natural feel of your rustic kitchen.
Hardwood Floors
When it comes to rustic flooring, there's nothing like the timeless look of hardwood floors. Reclaimed hardwood in particular is a great option for adding an extra touch of character to your room, while also being the more eco-friendly option. However, when it comes to the flooring in your kitchen, it's important to make sure the material can withstand anything your kitchen has to offer. From spills, to stains, your kitchen floor should be able to handle it all. A team of experienced renovation contractors, like those at Rose Building Group can help you find the right, high-quality materials that serve your kitchen needs while still bringing you the style you want.
Cabinets
Cabinets are an essential part of any kitchen renovation as they help tie in the entire theme. Often, they're the first thing people notice since they're right at eye-level. When you're looking to create a rustic feel in your kitchen, your cabinets will make or break your chosen ambience. Your cabinets should also work practically in your kitchen, meaning they should be fluid and easy to use .Look for wood or wood-like materials with lots of character to help set the tone, and test before you buy to make sure it works for you.
Kitchen Renovations with Rose Building Group
New trends will always pop up, whether they be hyper-modern or super futuristic, but the beauty of the rustic style is there will always be space for it. An inviting, warm home will always be on in style. The team of kitchen renovation contractors at Rose Building Group offers a professional approach to all kitchen, bathroom, basement, and home renovations, from drawings and interior design to execution.
Get started on your dream rustic kitchen!