Luxury Kitchen Renovations in Oakville
Cost-Effective Prices | High-Quality Materials | Years of Industry Experience
Have You Been Dreaming of a New Kitchen?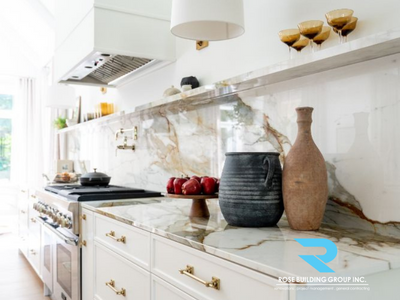 From start to finish, Rose Building Group is devoted to providing the highest quality kitchen renovations in Oakville. With top-tier contractors, designers, and project management in Oakville and the GTA, Rose Building Group promises to deliver superior planning, designs, and renovations to your home. With endless options for kitchen layouts, upgrades, and top-quality materials, the kitchen of your dreams is just one step away.
Premium Kitchen Renovations & Remodeling
Are you constantly envisioning the kitchen you've always wanted?
With years of experience in kitchen renovations in Oakville, the experts will not disappoint. From the first to the last day, the team at Rose Building Group precisely schedules and plans the renovation, all while providing relevant customer updates.
The contractors at Rose Building Group surpass expectations, offering premium engineered drawings, the latest technology and materials, and after-care on all projects. No matter what your dream kitchen looks like, Rose Building Group can accommodate your wants and needs with kitchen remodelings in Oakville.
Expert Kitchen Renovation Services Offered:
Complete Flooring, Ceiling & Wall Makeovers
Endless Design and Layout Options
Countertops, Islands & Peninsulas Upgrades
Lighting Installation and Designs
Built-In Storage Spaces
Customizations and so much more!
Ready For Your Dream Kitchen?
Perhaps your dream kitchen includes bright white walls with colourful floor tiles, or you just want simple upgrades like functional cupboards and drawers. No matter your renovation needs, the kitchen remodelers at Rose Building Group are ready to help!
Kitchen Island: Multiply your kitchen counter space with innovative island designs that increase seating, making more space to prepare meals and gather with the people you love. With high-quality materials available, you can choose from quartz, granite, or marble and even customize the shape and size of your island,
Functional Storage Space: With innovative storage solutions, you will have a place for everything in your kitchen. Forget searching through your drawers and cupboards for your favourite kitchen utensil and opt for organized and functional spaces to effectively store your items.
Layout Change: Create room to move around freely throughout your kitchen, upgrade your layout to optimize space and take down walls that interfere with the flow of your kitchen. All kitchen redesigns at Rose Building Group are completed according to code. Choose from several layout styles, including the L-Shape, U-Shape, Galley, or One-Wall layout, so that you can move freely.
Better Lighting: Transform your kitchen with modern light fixtures that illuminate counter spaces and cupboards to minimize eye strain. Cooking and entertaining at home are easier than ever with functional lighting.
Get The Beautiful Kitchen You Deserve
The kitchen is the best place to start if you're ready to revolutionize your home. Since much of your time is spent in the kitchen, why not make the best of it? Choose from spectacular upgrades, customizations, designs, and layouts to transform the kitchen into your new favourite room.
Rose Building Group has had the leading home renovation contractors for decades. From planning and designing to renovating homes across the Greater Toronto Area, the team of contractors provides excellent workmanship and satisfaction to all customers.
Why Choose Rose Building Group:
After-care warranty on all projects
WSIB coverage for all contractors
Over a decade of first-hand experience
All renovations are in accordance with the Ontario building code
High-quality workmanship and materials for every project
Get started on your kitchen renovation in Oakville today.