Guide to Managing a Realistic Kitchen Renovation Budget
Posted on March 10, 2023
Kitchen renovations are one of the most popular types of home renovations in Hamilton, because they are a great way to update the look and functionality of your kitchen, and can even increase the value of your home. As a luxury home renovation contractor, the Rose Building Group team understands that homeowners expect only the best in terms of quality, design, and functionality when it comes to their kitchen renovation in Hamilton. At the same time, it is also important to manage a realistic budget.
Explore these key tips for managing a realistic budget for your kitchen renovation, while still achieving the high-end look and feel you desire.
Determine Your Priorities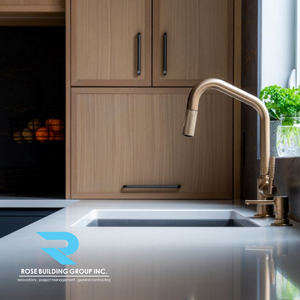 Before you start your Hamilton kitchen renovation, it's important to determine your priorities. What aspects of your kitchen are most important to you? Is it the functionality, the design, or both? Once you have a clear understanding of your priorities, you can allocate your budget accordingly. For example, if you prioritize functionality, you may want to invest in high-quality appliances or storage solutions. If you prioritize design, you may want to focus on materials and finishes that create a luxurious and elegant atmosphere.
Find a Professional Home Renovation Contractor in Hamilton
When it comes to a kitchen renovation, it's essential to work with a professional home renovation contractor in Hamilton that can help you manage your budget effectively and avoid costly mistakes that will run up your bill in the future. Experienced and skilled home renovation contractors at Rose Building Group will ensure that your renovation is done right the first time.
Focus on Quality Materials
Investing in high-quality materials is essential for a kitchen renovation in Hamilton that lasts. While low cost alternatives may seem attractive at first, they often do not provide the durability and longevity you need. Kitchens are a heavily used area of the home, which means that the materials, from flooring to cupboards used during home renovations in Hamilton should be durable enough to last daily use. Invest in materials that are both functional and stylish, and your kitchen will look great for years to come.
Keep Plumbing and Electrical Changes to a Minimum
Moving plumbing and electrical can quickly become a costly and time-consuming process. You can try to keep these changes to a minimum, and work with your contractor to find creative solutions that don't require major changes to the existing layout. Work directly with your home renovation contractors to plan the perfect layout for your kitchen renovation in Hamilton. The Rose Building Group team uses precise architectural drawings and adheres to regional building codes.
Don't Forget About Lighting
Good lighting is essential in a kitchen, both for functionality and aesthetics. Consider updating your lighting fixtures to improve the look and feel of your kitchen. LED lights are an energy-efficient option that can save you money on your electricity bill.
Choose Home Renovations with Rose Building Group
At Rose Building Group, we understand the importance of a stunning kitchen and home renovation in Hamilton and specialize in luxury home renovation. Our services are designed to help you manage your budget effectively, so you can have the kitchen of your dreams without overspending. Our design services are tailored to your budget and style preferences, ensuring that your renovation plan fits your needs and budget. We have access to high-quality materials at competitive prices, so you can get the best value for your money. We manage the entire renovation process, so you don't have to worry about coordinating with multiple contractors, and we'll keep you updated on the progress while making sure everything stays within budget. We stand behind our work with a warranty and quality assurance program. If anything goes wrong after the renovation is complete, we'll fix it at no additional cost.
Contact us today to learn more about our services and start planning your kitchen renovation today!