How to Assess Your Bathroom Renovation Needs in Burlington
Posted on January 17, 2023
In large part home renovations in Burlington are focused on upgrading styles to reflect your personal taste and emerging trends. But when focusing on an important functional space like the bathroom, your renovation should also address the practical needs of the space. To get the most out of your bathroom renovation in Burlington it helps to work with skilled and experienced home renovation contractors who can guide through every step of the renovation process, starting with assessing the needs of your space.
Read on to learn how to make the more effective renovation decisions for your home and contact the experts at Rose Building Group to get started.
More Space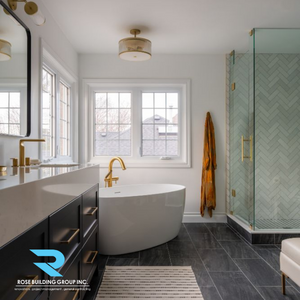 Ample bathroom space is one of the leading reasons people even begin home renovations in Burlington. As your family grows or your routine evolves, the demands of your bathroom follows suit. With bathroom renovations in Burlington and Rose Building Group, you can increase the square footage of your bathrooms or rearrange the layout to reduce clutter. The team at Rose Building Group uses detailed drawings and obtains local city construction permits to ensure your home renovations in Burlington are executed to perfection.
Sufficient Lighting
The bathroom is a multi-functional space, where we apply makeup, shower, or simply get ready for the day ahead. Dark bathrooms can make navigating through your daily routine a challenge, since all of these activities require good lighting. By upgrading your bathroom light fixtures, with bright daylight vanity lighting and even pot lights, you can improve visibility throughout the bathroom and avoid eye strain. With hundreds of beautiful bathroom light fixtures available, upgrading your bathroom lighting not only improves the functionality of the space but also adds a personal flair.
Durable Flooring
Bathroom floors are exposed to water and heavy foot traffic. If your floors are beginning to buckle or deteriorate after years of use, it is a good time to reach out to Rose Building Group about home renovations in Burlington. The best flooring for bathrooms are easy to clean and comfortable. With Rose Building Group you can install fresh and modern tiles, marble floors, or even heated flooring.
Save with Energy Efficiency
If time in the shower or with lights on is costing you significantly on your monthly utility bills, switching to energy efficient fixtures is a smart choice and a cost-effective solution. Not only are you engaging in more sustainable practices for the environment, you will save money monthy.
Maximize Storage
Where there isn't sufficient storage, clutter begins to accumulate. There are so many supplies dedicated to bathrooms, staying on top of organization and storage can be a challenge. If you notice overflows in laundry baskets or vanity drawers, bathroom renovations in Burlington are a great way to revamp your storage. From additional shelving and cupboards to hidden storage features, you will be able to maintain your bathroom space with greater ease and find what you're looking for effortlessly.
Home Bathroom Renovations in Burlington with Rose Building Group
Get more out of your bathroom remodel with the leading home renovation contractors at Rose Building Group. From innovative and beautiful interior design to functional and high-quality workmanship, Rose Building Group will help you transform your space.