How to Incorporate Patterns in Your Bathroom Renovation
Posted on May 29, 2023
One of the areas of the home where you can unleash some unreserved creativity is the bathroom. You can have fun adding dramatic colours and intricate patterns during your bathroom renovation in Burlington. Home renovation contractors in Burlington can add exciting patterns to bathroom walls, floors, and backsplashes above a vanity or around showers or tubs. Rose Building Group is a trusted renovation contractor well-known for its uncompromising quality and ability to luxuriously transform properties; they specialize in home, kitchen and bathroom renovations.
Read on to learn how to incorporate patterns in your bathroom renovation.
Exploring Patterns in Bathrooms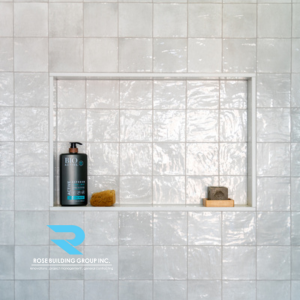 Patterns add a splash of style and character to your bathroom. You can incorporate three different kinds of tile into your bathroom, the floor, shower wall and shower floor. It is common to add tiles on the bathroom wall and add the same tiles to continue onto the shower wall. Beautiful patterns add luxury to your bathroom renovation in Burlington, but it is advised not to overdo it. Try to use at most three kinds of patterns in the bathroom; otherwise, you risk it looking overly busy, and the bathroom may lose a harmonious ambience if too much goes on.
Having a maximum of three patterns for your bathroom floor, shower floor, and shower wall is a good rule of thumb to ensure you are pleased when it all comes together.
Leverage the Power of Patterns
There are a variety of different patterns that can be incorporated into your bathroom. When working with experienced home renovation contractors in Burlington, they will be able to guide you through the process to ensure the final product is refined and spa-like. Here are a few tips when working with patterns in the bathroom.
Busy Patterns: When looking at patterns to add to the bathroom, try to minimize very busy intricate patterns to small areas of the bathroom, like a backsplash or an insert on the shower wall. Balance busy tile patterns by combining them with simple tiles.
Diagonal Patterns: Diagonal patterns are great for small places and help to create an illusion of a larger space. So putting diagonal patterns on your bathroom floor will help make it look bigger.
Herringbone Pattern: Herringbone pattern is a highly popular pattern of rectangles placed together. They are found in luxury renovations and also make spaces appear larger.
Hexagon Pattern: Adding hexagonal tiles to your floors or backsplash is an excellent way to add style and maintain simplicity.
Plan Your Luxury Bathroom Renovation
Rose Building Group has performed numerous high-quality renovations, completely transforming homes into luxurious abodes. Rose Building Group has a team of highly skilled, licensed tradespeople who produce absolutely exquisite work with full attention to the tiniest details. If this is your first time renovating a space, Rose Building Group works with brilliant designers to help you achieve your design goals and bring your ideas to life. You can also rest assured as we have liability insurance, WSIB coverage and always use city building permits.