How to Increase Storage with Kitchen Renovations in Burlington
Posted on December 14, 2022
A lot happens in your kitchen every day. From big family meals to the conversations you have throughout your day, it's no wonder the kitchen plays such a significant role in the home. But for busy households, kitchens must be functional and accommodating in addition to beautiful and inviting, that's why expert home renovation contractors like those at Rose Building Group are so often tasked with striking a balance between storage, and style. A Burlington kitchen renovation will help transform your kitchen into a space that meets the whole family's needs.
More Kitchen Cabinets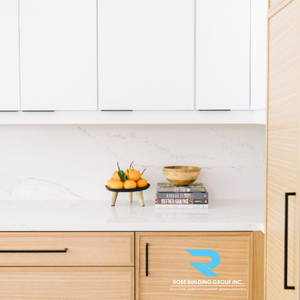 When you enter your kitchen, often the first thing you'll notice is the cabinets. At eye level, at the centre of attention, they can make quite a statement about your kitchen. Standout colours, unique materials and style of your cabinets can tie together your whole kitchen or even your home. However, beyond the aesthetic impact they can have, cabinets are also a great way to solve your storage concerns. Cabinets are the best place for your day-to-day items like salt or plates. They keep your necessary items within reach while maintaining them discreetly kept away.
Increase Shelving
No storage space is complete without great shelving. Great Burlington kitchen renovations will always keep in mind what the space is intended for before committing to shelving. Since no two families are the same, no two kitchens are either. That means that while one person might want tall shelving for their appliances, another might want several short shelves for their cookware. It's the job of the home renovation contractors to guide you through understanding what works for your specific needs.
Maximize Cupboard Space
However, cabinets shouldn't get all the attention. Free-standing cupboards can be a great way to have food or pantry storage, even outside the main kitchen area. Whether you want to store dry goods, spices or even the dog's food, cupboards are a great place to keep things you won't necessarily need often throughout the day.
Create More Space
By hanging this on the cupboard door facing inwards, like storage baskets, you can give your kitchen shelves a little more room while maintaining a clean aesthetic. Plastic bags, recipe books and spices can all find a new home with discreet hanging features.
Incorporate Organizers
Believe it or not, organizers can be the difference between storage and storage solutions. Whether it's an organizer to keep your cutlery in place, or to stop your tupperware from getting separated, these little moments can save you loads of time in the kitchen.
Kitchen Renovations with Rose Building Group
From appliances to cutlery, the heart of your home should work the way you need it to. By updating your storage solutions, you make your kitchen a more practical and welcoming space. Take the tension out of your time in the kitchen by giving yourself a space that flows to your liking. Whether that means building new storage spaces to include more or updating the ones you already have so that they meet your needs better. The team of experts at Rose Building Group will guide you through your kitchen renovation in Burlington so you can be sure that your kitchen is as functional as it is beautiful.