How to Make Your Guest Bathroom a Showstopper
Posted on June 15, 2023
When doing a guest bathroom renovation in Burlington, don't lose the opportunity to create an absolute showstopper. Your bathroom is one of the safest places in the house to allow some creative risk. You can advise home renovation contractors in Burlington to present much more dramatic and bold colour schemes than the rest of your home. You can also be open to using creative patterns within the bathroom that you might shy away from in the rest of the house. Rose Building Group is a luxury renovation contractor that transforms homes to the highest standard and pays attention to the smallest of details.
Read on to learn more about how to make your guest bathroom a showstopper.
Art Deco Style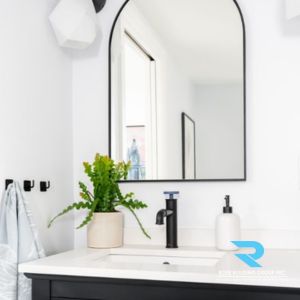 When you are looking for inspiration for your guest bathroom renovation in Burlington, consider Art Deco Style. The bathroom is enclosed and only used by guests, so feel free to let your creative juices fly. Art Deco Style is known to showcase rich colours like deep greens, layered shapes and the use of metallics like gold and silver. If the bathroom is smaller in size, you can punch a lot of styles using Art Deco Style.
Embrace Black Themes
Home renovation contractors in Burlington will be able to help you with selecting colours for your new bathroom but don't fear using black to create a showstopper of a bathroom. Using black on the walls of a bathroom can create a beautiful contrast to the bathroom's white toilet, bathtub and sink. Consider penny tile floors in white and black to bring it all together. This is definitely a dramatic look but not uncommon, and it drips with style and creative flair.
Stunning Light Fixtures
Who says you can't add a chandelier to a bathroom? When you are renovating your guest bathroom, don't be afraid to use luxurious light fixtures. Welcome modern or traditional crystal chandeliers; go big and bold with your lighting options. You can also add pot lights which always create a nice, sleek, and modern look to any room.
Tiles on the Walls
It is common to have tiles surround a shower or tub, and sometimes as a backsplash above a vanity. It is a much more luxurious measure when tiles are applied to all walls in the bathroom. When you see white tiles or marble with distinct veining, it creates an ambience of luxury and indulgence. Just be careful to balance the patterns in your bathroom so that it does not end up looking too busy.
Dramatic Vanity Mirrors
The vanity mirror is a focal point in your bathroom, so don't lose the opportunity to place a beautiful mirror on the vanity. Embrace mirrors with embellished borders that come in an interesting shape. The mirror can be in a moody brassy, bold black trim or whatever suits the rest of the bathroom renovation.
Luxurious Bathroom Renovations in Burlington
Rose Building Group will help bring creative vision to life and transform your guest bathroom into an extraordinary showstopper. Rose Building Group's team are all licensed professionals offering the highest level of quality and craftsmanship.