How to Make Your Home More Functional with Home Renovations
Posted on October 27, 2023
Your home serves as your personal escape, and it should be tailored to accommodate your evolving lifestyle and requirements. As time progresses, the needs of your family may change, prompting you to reevaluate the functionality of your living space. If you're a homeowner who feels that your current layout no longer meets your practical needs, it might be time to explore full home renovations, from kitchen upgrades to basement renovations in Burlington with the professional expertise of the Rose Building Group team.
There are a wide range of renovation opportunities for those seeking to maximize space, improving organization and overall functionality within their living space. Upgrading your space with home renovations in Burlington can be a fun and exciting project that can help add value to your property while adding to your quality of life.
With all of the possible upgrades you could make to your home, it is helpful to focus on the changes that will make your home practical and functional. Learn how our expert home renovation contractors in Burlington can help you make the most out of your home.
Ensure Functional Layout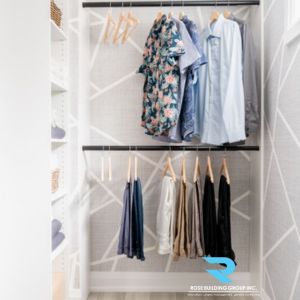 Optimize space for efficiency by making strategic layout changes when you have the resources to do so. This can involve knocking down walls and creating a more open living space, provided it fits within your time and budget constraints. A well-organized home begins with effective storage solutions. Explore various storage options that the home renovation contractors Rose Building Group advise, such as in-house installations to maintain functionality. Plan for future needs, especially when it comes to family expansion. Allocate space for potential children and identify opportunities for room consolidation in smaller properties. Utilize unused space by taking advantage of often overlooked areas in your home to make your living space appear more extensive.
Apply Practical Design Choices
While exciting ideas can be tempting, prioritize practicality in your design decisions. Consider the real purpose and value of each modification for your home renovation in Burlington. Prioritize natural lighting by incorporating abundant outdoor lighting, such as large windows, to create a welcoming, bright atmosphere in your home. This lighting not only enhances the aesthetics but also influences the way colours appear. Enhance the visual spaciousness of your home by using contrasting colours strategically. This cost-effective approach adds depth and dimension to your living spaces. Maximize the room potential of each room, utilizing lofts, walk-in closets, and other assets within your home to maximize functionality. Inject your personal style and personality into your home's interior by adding artwork, colourful decor, and other style elements that resonate with you. While practicality is crucial, ensure your home is enjoyable to live in, including fun elements like video game consoles and entertainment systems, always in moderation.
Converting the Basement for an Additional Living Area
Basement renovations in Burlington are never a bad idea. Of course, there are many spaces within the home that can be renovated for functionality: the kitchen, bathrooms, bedrooms, outdoor areas, attics, and others, but basements frequently remain underutilized, often relegated to dark storage spaces or unfinished areas. To enhance your home's practicality, consider a basement conversion. Burlington's climate makes basements particularly suitable for creating additional living space. You can transform your basement into a welcoming family room, a home office, a fitness zone, or even a rental suite to generate additional income. Ensuring proper insulation, lighting, and moisture control will transform your basement into a functional extension of your living area.
Burlington's Local Renovation Experts are Here to Help
Your home mirrors your lifestyle, and it should adapt to your evolving needs. Rose Building Group provides countless opportunities to augment the functionality of your living space. Burlington's local experts are ready to assist you in transforming your home into a practical and stylish sanctuary. These renovations not only enhance your daily life but also add value to your property, making them a wise investment for Burlington homeowners. So, if you're seeking to amplify your home's functionality, Rose Building Group can create the ideal living environment for you and your family.