How to Maximize the ROI of Your Bathroom Renovation in Burlington
Posted on July 19, 2023
If you've been considering selling your home, working with professional renovation companies to upgrade the property is a great way to increase market value. Bathrooms are one of the first rooms potential buyers look at because it serves a primary role in day to day life. Whether your bathroom renovation in Burlington is for a small space or an older style, the team of experienced renovation contractors at Rose Building Group will build you the perfect space.
Explore ways to add value to your bathroom below with the Rose Building Group team.
Upgrade Your Mirrors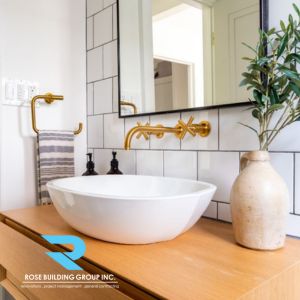 There are many instances in homes where bathrooms are in the middle of the house, meaning there is no opportunity for a window. With this as a factor, it can often feel claustrophobic and small. Take advantage of mirrors in your bathroom to open up the room. With a wide variety of mirrors available, a high-quality mirror can take you a long way with a modern bathroom.
Bathtub and Shower
If you have multiple bathrooms in your home with bathtubs, eliminate a tub and utilize that space to upgrade your shower. A more design-forward shower may be ideal in the space to spice up the bathroom. You can add a steam shower to these showers and create a more accessible walk-in feature.
Another option is to separate the bathtub and the shower. Create a more relaxing environment to enjoy a bath with a freestanding bathtub. Tubs can also come with a jacuzzi function that can add value when selling your house.
More Sinks; More Functionality
Upgrading to two sinks in your bathroom can be highly beneficial for the family. Everyone leading busy lives will need easy access to the bathroom. This can be especially hard in the morning when everyone has somewhere to be. Twin sinks can be handy for jack and jill bathrooms and primary bathrooms if you and your partner share a bathroom.
Simple Revamping
If you are not looking to make massive renovations to your home, there are minor adjustments you can make to freshen up your bathroom and add some value.
Explore the following options:
Fresh paint (accent colours)
New fixtures/accessories (faucets, soap dispensers, towels, etc.)
Light fixtures
Retiling
Regrouting
Adding plants
Reorganizing
New Technology to the Bathroom
When looking to make your home more technologically advanced, you can make changes to the bathroom. Heated flooring is a great way to add value to your bathroom, as it amplifies your experience. On cold days, nothing is better than stepping out of the shower to some warm tiles.
Bidets are also a great addition to your bathroom. Though it may be a foreign concept to some, this appliance is considered a luxury instead of a necessity. Bidets come in various types, from handheld to heated seats, for what best fits your bathroom.
Consult with Rose Building Group
Rose Building Group is a renovation company that can help with home renovation needs. The company has highly qualified professionals to help you make the best decisions for your home. Rose Building Group pride itself on working with clients to ensure optimal results, from the design to the home's construction. Contact the Rose Building Group today to get started on your renovation projects.