How To Start Your Full Home Remodelling Project
Posted on September 03, 2021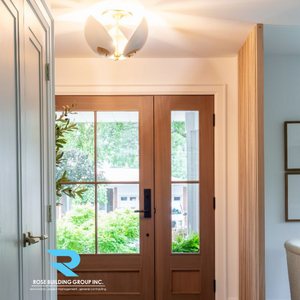 As we come to the end of summer, now is a great time to start considering finally embarking on the full home remodelling project you have been toying with for the last few months. Any home renovation companies in the area will say that the most significant factor in achieving a smooth full home renovation is to plan, plan, plan and then plan some more.
Rose Building Group home renovation contractors have compiled a series of articles that break down the steps for completing a successful full home remodelling project. As we mentioned above, the first and arguably most crucial step is to plan your full home renovation. Below is a list of insider tricks and tips to help you successfully complete step one of your next full home remodelling project.
1. Plan Ahead
Many home renovation companies consider planning to be the most important part of a full home renovation project. And no, we are not talking about planning out your colour scheme and swatches. We are talking about developing a plan that clearly defines the goal of your renovation.
When developing your home plan, keep the following in mind:
Home Renovation Cost and Budget
According to data surveyed in 2020 by Homestars, homeowners consistently underquote the costs of popular renovation projects such as kitchen renovations, new floor renovations and bathroom renovations. Knowing what an adequate budget size is- and sticking to it - can be very challenging. When you hire a home renovation company like Rose Building Group, they help keep you focused on the goal of your home renovation; they can help you factor in contingency costs and work to keep you on budget.
Added Value Of Renovation
Many individuals choose to embark on a full home remodelling project to increase the value of their home. It is important to note that full home renovations rarely give a $1 for $1 return on investment. In lamens terms, you don't need to spend all your money on high-end finishes to get the best returns. A full renovation company like Rose Building group can help you get the most out of your renovation budget and achieve a high return on your investment.
Do Your Research
You do not want to be stuck with the wrong home renovation company. You will be working with them throughout the entirety of your home renovation. Do not rush this step. Take the time to talk with friends and family, interview all home renovation companies, ask for their quotes and check that they have a good standing on the Trustedpros.ca and a high Google My Business profile. Check out Rose Building Group company rating on Trustedpros.ca and see why we are one of the top home renovation companies ​​servicing Oakville, Burlington, Hamilton, and surrounding areas of Ontario.
Full Home Renovation Company
If you are interested in starting a full home remodelling project this fall, get in touch with Rose Building Group Home Renovation Contractors today!
Read More About Our Home Renovation Services