How to Transform Your Small Bathroom into a Luxury Space
Posted on August 08, 2022
Today, the staple for a great bathroom is an open concept layout with plenty of space, but even your smaller bathrooms can become luxurious with the right help. Turning your small, forgotten bathroom space into a relaxing paradise might seem daunting, but there are plenty of details that can make a huge difference. When committing to bathroom renovations in Burlington, the experienced team at Rose Building Group is a home renovation company that can provide even your smaller rooms with a high-end design, you're destined.
Here are some tips on transforming your small bathroom into a luxury space.
Flooring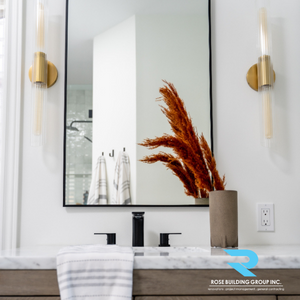 There's nothing quite as jarring as waking up in the morning and walking onto cold bathroom tiles. Including heated tiles in your bathroom renovation plan can make all the difference in your day-to-day experience. Likewise, a unique design that accentuates your personal tastes can make your bathroom feel more original.
Bathtubs
Nothing screams luxury bathroom quite like a good tub. When picking the right tub, it's essential to clearly understand what you want from it. Whether you're looking for a tub perfect for the kids' bath time, or a relaxation haven for adults, the right tub will set the tone for your entire bathroom.
Countertops
To create a one-of-a-kind experience, consider introducing original countertops. It may seem like a small detail, but bringing in original or rarely seen countertops can take your bathroom from a generic bore to a unique masterpiece. Having eye-catching countertops can elevate your smaller space without making it feel crammed in.
Steam Showers & Jets
What can be more luxurious than an at-home spa treatment? Introducing steam showers and jets to your bathroom renovation can turn even the smallest space into an oasis for decompression. With steam showers and jets, you can elevate the relaxing ambiance of your bathroom without needing to carve out more space.
Cabinets
Believe it or not, cabinets can make or break your bathroom space. Not having enough cabinet space can turn your relaxing bathroom into a cramped clutter; too many cabinets suddenly overwhelm your area. To achieve the perfect balance, find spaces for all your regular use products (hair dryers, toiletries, and creams) while still having room for your less used items (cleaning supplies, spare towels, etc.).
Increase Square Footage
Adding some extra square footage is one sure-fire way to get more from your bathroom space. With more space, you can spring for a more relaxing tub, additional sink space, or whatever your home needs to take your bathroom to the next level. Adding space can seem like a big task. Still, with professional home renovation companies like the team at Rose Building Group, you can add more square footage to your bathroom without sacrificing the space you need elsewhere.
Rose Building Group Is Your Top Choice
No matter how you choose to renovate your bathroom, Rose Building Group can provide you with years of experience to create your dream bathroom renovations in Burlington. Taking your bathroom from a tight space to a luxurious experience that's functional for your life can change the tone of your entire home.