Ideas for Transforming Your Basement into a Luxurious Party Area
Posted on June 09, 2023
Basement renovations in Oakville have the capacity to transform your basement into a luxurious party area. For those who love hosting and would like a designated space in their home to entertain their guests, the basement is an excellent space. Rose Building Group is a premium renovation company that performs luxurious home renovations in Oakville and will be able to create a wonderful party area for your home.
Keep reading to learn more about transforming your basement into a luxurious party area.
Why Basements Are Great for Parties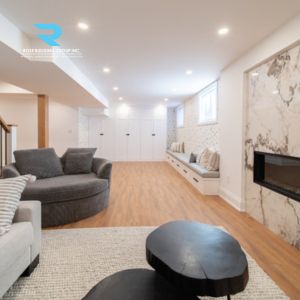 Basements are excellent for hosting parties for the entire family. Whether it is a birthday party for young children, a cocktail party for adults, or even a movie night, the basement is a great way to keep guests in one area of the home. When guests are in the basement, they are not roaming your home, and you don't need to worry about cleaning the entire house afterward.
When hosting a party in the basement, you also won't need to clean the entire kitchen before your party as your guests will go straight downstairs. So no one will see your messy kitchen after preparing food for the party.
Basement renovations in Oakville can incorporate many features that transform your basement into a premiere party area. You can put endless options into your new basement so it becomes the luxurious party area you envision.
Additions for Entertaining in Your Basement
When thinking about your home renovations in Oakville to assist with your entertaining endeavors, you must consider what type of parties you like to host. Do you like cocktail parties, movie nights, casual gatherings with sports and playing pool? Let's explore some options you can incorporate into your basement renovation:
Bar Area: A bar area will be beneficial for all kinds of parties. A bar provides a designated space to place food and beverages and to keep drinks organized and cool. Consider track and recessed lighting to brighten the area and create a more inviting atmosphere. If you want to add a dose of luxury, incorporate marble and granite onto the countertop and backsplash of the bar.
Pool Room: People love to play pool; a pool table is always a great addition to your basement. Pool tables are versatile and can be enjoyed by anyone. Ensuring a designated space for a pool table that is still open to the main entertaining area will be great for your parties.
Home Theater: If you love movies and have a group of friends that love to watch movies or even epic television series, you can add a home theater into your basement with luxury features. Your home theater might have a movie projector, flat-screen TV, and several reclining chairs in tiered rows.
Dance Floor: You can install an area for dancing with a high-quality sound system. You can install porcelain or marble floors or quality luxury vinyl flooring to enhance the appearance of the dance area.
Lighting: Lighting in the basement is essential as there may be restricted lighting from outside, which adds lots of style to a luxurious party area.
Basement Renovations In Oakville with Rose Building Group
Rose Building Group is the number one choice for luxurious basement renovations in Oakville. Rose Building Group provides top-quality workmanship to bring your ideas to life and create an elegant environment for you, your family and your friends to enjoy.