Modern Appliances for Kitchen Renovations in Hamilton
Posted on February 08, 2023
With so many details to go through during any kitchen renovation in Hamilton, it can be easy to feel overwhelmed when it comes to bigger items and decisions about new appliances. It's not about which appliances are the best overall but which are the best for your home. Most kitchen appliances last between 10-20 years, so the choices you make are a long term investment that should make sense for you and how you use your kitchen. At Rose Building Group, our team of experienced home renovation contractors will guide you through appliance styles and choices that best suit your space so you can get the perfect finish from your home renovation in Hamilton.
Read on for guidance on how to choose the best kitchen appliances during your Hamilton kitchen renovation.
Dedicated Appliance Budget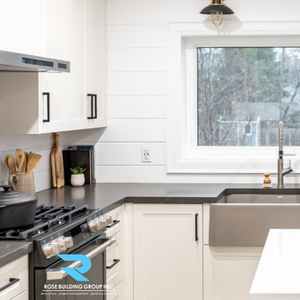 The biggest factor for every choice in most Hamilton home renovations is budget. Style, design, and functionality can all be adjusted once you know exactly how much money you have for spending. During your home renovations in Hamilton, it helps to finetune a smart budget for your appliances, so you can begin to browse options that fall within your ideal spending limits. With hundreds of modern appliance options available, a budget will refine your choices so you can pick something you truly love at a price that makes sense for your kitchen renovation.
Kitchen Layout
The new layout of your home can completely define which appliances you can and can't include in your kitchen renovation. You can always change the layout of your home by removing walls or creating extensions during kitchen renovations in Hamilton, but overall your appliances should fit the ideal layout for your kitchen rather than the other way around. The simpler solution is always to keep your layout in the back of your mind when choosing appliances. That could mean sticking to stackable appliances to take up more room or focusing on free-standing appliances that can easily be slotted between countertops. If you're worried about what works best in your space. The team of expert home renovation contractors at Rose Building Group who are well-versed at kitchen and home renovations can direct you to the styles and sizes that work best for your kitchen, so you don't have to stress about it.
Functionality and Lifestyle
With new models coming out every year, it's tempting just to get the most advanced versions of every appliance for your kitchen, but the truth is, you may not need them. Do you really need an oven with a Sous Vide option, a microwave with Wi-Fi connectivity or a dishwasher with hidden controls? For some households, the answer is a resounding "yes, absolutely!" Whereas other families might prefer having an oven air fryer, a fridge with Wi-Fi connectivity, and a dishwasher that's panel ready instead. You must consider which capabilities would serve the most function in your home and fit your lifestyle.
Style and Aesthetic
As essential as appliances are to any kitchen, style and aesthetics tend to be the reason most people embark on their kitchen renovations in the first place. Trendy style choices like brass handles, bold matte colourways or seamless paneling designs can completely elevate any kitchen space. Even choosing between cool or warm tones can completely change the look of your kitchen. By making your style choices early in the renovation process, you can narrow down which appliances fit your aesthetic and which would clash.
Home Kitchen Renovations in Hamilton with Rose Building Group
Too many choices can be overwhelming, but with the right team guiding you, you can create a completely aligned kitchen with your dream design. The experienced team at Rose Building Group can help you understand what appliances will tie together your Hamilton kitchen renovation while also fitting your lifestyle and budget.