How to Pick the Best Bathroom Fixtures for Your Lifestyle
Posted on September 11, 2023
Bathroom renovations in Oakville are a great way to increase your home's value, improve functionality, or simply create a more enticing space. Working with skilled home renovation contractors to update your bathroom fixtures can make a significant difference, especially if you tailor your choices to suit your lifestyle. If you're in Oakville and planning a bathroom renovation, working with experienced home renovation contractors at Rose Building Group can be a great starting point. Tailor your home renovations to your needs and make the most out of your home with Rose Building Group.
Read on to learn how to pick the best fixtures for your lifestyle during your bathroom renovations in Oakville, Hamilton, Burlington, and Southern Ontario.
Consider Your Lifestyle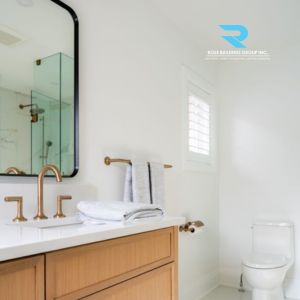 Before diving into the world of bathroom fixtures, take a moment to think about your lifestyle and preferences. Do you have a busy family household or live alone? Are you a fan of long, luxurious baths, or do you prefer quick showers? Understanding your daily routines and habits will help you select fixtures that suit your lifestyle. Families with young children might opt for durability and simple fixtures, lower mirrors and easy-to-reach storage, whereas couples may want double sinks and showers. On the other hand, spa lovers may opt for rainfall showers, soaking tubs, or even a custom sauna.
Set a Budget for Your Bathroom Renovation
Bathroom renovations in Oakville can vary greatly in cost, and your budget will play a significant role in your fixture choices. It's crucial to establish a realistic budget before you start shopping. This will help you narrow down your options and avoid overspending. Home renovation contractors in Oakville can assist you in setting a budget that aligns with your goals and needs.
Choose Efficient Fixtures
It's essential to consider the environmental impact and energy-efficiency of your fixture choices. Opting for more efficient fixtures can save you money on utilities and minimize your environmental impact. Low-flow toilets, aerated faucets, and LED lighting are excellent choices for bathroom renovations in Oakville, reducing your utility bills and minimizing your carbon footprint. Many home renovation contractors can provide guidance on eco-friendly options.
Focus on Quality Materials & Workmanship
Quality should always be a top priority when selecting bathroom fixtures. Investing in high-quality fixtures may increase home renovation costs more upfront, but they will last longer and require less maintenance over time. Working with the experienced home renovation contractors at Rose Building Group will help you identify the best quality brands and products.
Coordinate Your Styles
Your bathroom should have a cohesive and appealing design. Consider the style of your home and choose fixtures that complement it. Whether you prefer a modern, traditional, or eclectic look, there are fixtures available to suit your aesthetic. Coordinating the finish and style of your fixtures, such as faucets, cabinet hardware, and lighting, can create a polished and harmonious bathroom design.
Plan Your Bathroom Renovation with Rose Building Group
Whether it's a guest bath, powder room, or an en-suite bathroom, you deserve to build the best space for you and your family. With guidance and expertise from Rose Building Group, your trusted home renovation contractors in Southern Ontario, maximize your bathroom functionality.