Powder Room Bathroom Renovation Ideas
Posted on October 06, 2023
Powder rooms are a small but essential part of the home. As an area designated especially for guests and visitors, it deserves special attention as you plan home bathroom renovations in Oakville. With less space to work with than other home areas and other bathrooms in a home, you should approach your powder room upgrades with innovation and skilled home renovation contractors. The experienced team of renovation professionals at Rose Building Group have years of experience with a variety of spaces and know how to balance style and function.
Explore powder room renovation ideas to elevate your space and maximize your home renovation, read on or contact Rose Building Group.
Consider the Layout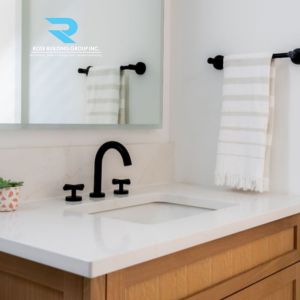 Before getting started on physical demolitions or upgrades to your powder room, first think about all of your potential layout options. While powder rooms require fewer fixtures than a traditional bathroom renovation in Oakville, there are still essential items that need to be incorporated. Work with your home renovation contractors at Rose Building Group to perfect the perfect setup. Ideally, you should avoid clutter and ensure there is enough negative space to ensure the room doesn't feel crowded. Experts recommend keeping all fixtures against the wall in a powder room, leaving 15 to 18 inches of space on either side of each toilet and legroom in front of it.
Wall-Mounted Fixtures
Once you assess the available space, your furnishings should not infringe on the open space required for comfortable movement. When choosing towel racks and toilet paper holders, it's recommended to select those that adhere to the wall. Standing fixtures can dominate valuable floor space, whereas wall-mounted fixtures give you the functionality you need without infringing on important floor or counter space.
Vertical Storage
In primary bathrooms or larger washrooms around a home, horizontal storage options and built-in cabinets are a top choice because they give ample storage space. But, when working with a powder room, home renovation contractors tend to focus on vertical storage that builds upward or wall-mounted cabinets and shelving. Because you tend to need less space to stock bathroom essentials in powder rooms, smaller storage options don't inhibit the practicality of the room.
Wall Lighting & Mirrors
If you're hosting an event, the powder room is more than just a smaller bathroom. It's a place where guests will go to check their makeup or fix their hair. With that in mind, you should explore mirror and lighting options together. To make the best use of the available space, vanity lighting is recommended above your mirror. For a modern bathroom renovation in Oakville, choose thin, simple mirrors and geometric light fixtures that illuminate and create the illusion of a bigger room.
Renovate Your Powder Room with the Experts
Create a powder room you want to show off with the experienced home renovation contractors at Rose Building Group. Using high-quality materials, an innovative approach to design, and strategic construction, Rose Building Group will provide you with a beautiful and functional small bathroom renovation in Oakville. When you pair your powder room upgrades with other home renovations in Oakville with Rose Building Group, you will create a cohesive and beautiful living space you'll be proud to call home.