How to Prioritize Functionality During Your Kitchen Renovations in Burlington
Posted on November 24, 2022
As the heart of the home, your kitchen does a lot for your family. It's a cooking space, a spot to gather, a place to connect. But when your kitchen starts to feel small, it can be hard to enjoy these things. Cooking becomes cramped, cleaning gets complicated, and gathering begins to feel like a chore. Experienced kitchen remodelers like the Rose Building Group team can help you reintroduce functionality into your kitchen space. A Burlington kitchen renovation might be exactly what you need to fall in love with your kitchen again.
Storage Space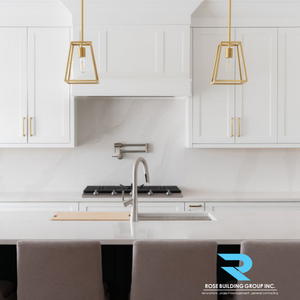 One of the biggest differences between a cramped kitchen and a functional one is storage. Maintaining a clean and organized kitchen can be difficult when there isn't enough space for all the necessary tools. Find a spot for all your kitchen essentials without overcrowding your workspace with better storage space. Kitchen remodelers can help you assess how much storage you'll need during your Burlington kitchen renovation to ensure you can keep a clean, clutter-free space.
Open Floor Plan
Open floor plans give you more than just an aesthetic change. They provide a functional redistribution of kitchen space. Give yourself an open floor plan that works with your cooking style to achieve the perfect flow in your kitchen. Likewise, a kitchen floor plan can help you to stay connected with your home while you work in the kitchen. The knowledgeable kitchen remodelers at Rose Building Group have the experience to ensure your open floor plan functions well with your unique cooking style.
Be Strategic About Design & Decor
A great way to prevent overcrowding in your kitchen space is to create a minimalist space with only the essentials. Avoid knick-knacks, large decorations, or miscellaneous accessories in and around your workspace. These extra decorations can make it harder to find the things you truly need and make cleaning a lot more complicated.
Similarly, overly detailed patterns on your backsplash or cabinets can overwhelm the space. In general, solid, lighter tones can make a limited space feel more open and welcoming, making it much more enjoyable to spend time in.
Seamless Appliance Installation
Whether it's stacked ovens, countertop stoves or built-in fridges, seamlessly installed appliances can take the functionality of your kitchen to the next level. They can help you save on square footage, giving you ample room to move around. They can also make cleaning much easier since you no longer have to get between those thin cracks or move appliances out of the way to clean behind them. And it doesn't hurt that they give your kitchen a much more modern aesthetic.
You use your kitchen every day. It's where your family comes together and friends gather, so it should fit your needs.
Functional Kitchen Renovations in Burlington
When remodeling your kitchen, Rose Building Group will help you determine your home's unique needs and develop a plan to address them. Whether you need a better kitchen workflow or you want to give it a more minimalist and functional upgrade, Rose Building Group will help you get what you need.