Reinvent Your Home with Wall Upgrades for Your Renovation
Posted on January 26, 2023
When it comes to home renovations, everyone has different needs. You want your upgraded home to be the perfect combination of your unique style and functional solutions for your needs. But that doesn't mean you can't bring in some trendy design choices like accent walls. With expert renovation contractors like those at Rose Building Group, you can introduce trendy features without sacrificing your needs. Take your home and kitchen renovations in Burlington to the next level with unique wall accents.
Read on to learn more about the different types of accent walls you can create in your home.
Wallpaper & Paint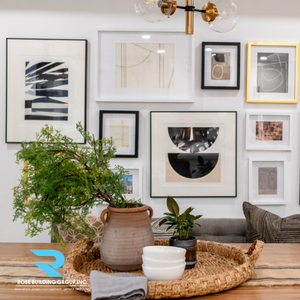 You may think you're familiar with wallpaper, but it's come a long way since the groovy prints of the 70s. Modern wallpapers can come in a plethora of prints and patterns, so you can choose the one that fits your unique style the most. One of the most accessible ways to take your wall from average to accent is to add an exciting print wallpaper or bold paint colour. With a simple coat of paint, you can open up your room and make your home an exciting space.
Shiplap
As farmhouse trends have garnered popularity, a shiplap wall has become a trendy alternative to a complete home transformation. Adding a shiplap wall is a great way to bring warmth to any room. Commonly seen in vinyl or wood, a shiplap accent wall can give your home a dynamic view without making your décor overwhelming.
Tiles & Stone
Tiles and stone are great ways to bring an exciting accent to your home, particularly for your bathroom or kitchen renovation in Burlington. From simple brick designs to eccentric geometric patterns, you'll have plenty of options to create an accent wall that is fun and functional. The waterproof quality of tiles and stone makes it the perfect addition for rooms with excess humidity, as well as making it easy to clean.
Fireplace
A classic addition to any home is a well-placed fireplace. Adding a warm hearth to your home can give you a place to come together while also serving as a fashionable addition to your home. A new fireplace can utterly transform your space, and if you already have one in your home, experienced renovation contractors like the team at Rose Building Group can help you elevate the space.
Geometric/Dimensional Accents
Bold geometric patterns can reinvigorate your room. From wooden slats that create dynamic lines to patterned wallpapers with geometric prints, there are plenty of ways to give your home an easy touch of dimension,
Working with the Top Home Renovation Contractors in Southern Ontario
When it comes to refreshing your home, a knowledgeable renovation contractor can take your home renovation from complex to a piece of cake. With years of experience, the team at Rose Building Group can receive expert advice on how to take your home to the next level. Whether you're looking to upgrade your whole home or just want to take it one room at a time, you can elevate your home in style.