Renovation Tips to Make Your Bathroom Look Bigger
Posted on October 17, 2022
Small bathroom spaces are often difficult to use, especially if you have to share them with your whole family. When everyone's personal belongings mix together it creates chaos, clutter, and confusion. With bathroom renovations in Burlington, you can open up your bathroom and create the space you need. For all home renovations in Burlington, the Rose Building Group team of professional and experienced contractors is the top choice. You don't have to be overwhelmed by an underwhelming space, read on to learn how your bathroom renovation and redesign can make a significant difference.
Ready for a bigger and brighter bathroom? Read on for home renovations tips to open up your space.
Soft Coloured Paint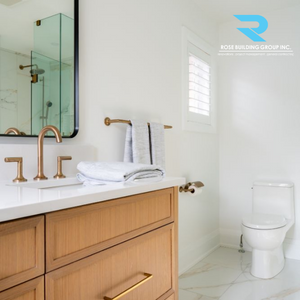 Design principles dictate that light colours like pastels can really open a room because they allow more light to reflect, whereas darker colours will absorb light. By choosing a pastel colour such as soft pinks, browns, and blues, that are light but still fun, you can give your space a stylish touch that won't be affected by day-to-day usage, while also making your room feel larger. For greater impact, home renovations companies in Burlington also recommend light coloured tiles.
Better Lighting
Dark lighting often makes rooms look small and confined, when old light fixtures are replaced with new LED models that are installed strategically, you can effectively brighten your space simply by illuminating it. Rose Building Group can help you find and install the perfect vanity light fixtures to minimize shadows and brighten your bathroom.
A Large Mirror
It might seem like a simple solution, but a large mirror can reinvigorate your washroom. Stylistically, mirrors are an excellent tool for smaller spaces since they reflect light, adding dimension to any space creating the illusion that there is more space than what is really there.. Mirrors are also a functional addition to your washroom since large mirrors can make it easier for your family to share the area rather than just using it one at a time.
Hidden Yet Functional Storage
The best way to open up a smaller bathroom space is by removing the clutter that builds up over time. Having effective storage options is a must-have for any shared space. With proper storage, everyone can have a spot for their needs without creating constant clutter. Practical yet hidden storage frees up frequently trafficked areas within your bathroom and makes cleaning much easier since you will have fewer items to work around. The Burlington bathroom renovation experts at Rose Building Group can help you find the most productive ways to store your regularly used items without having to give up style or functionality.
Make Your Bathroom Bigger
The most straightforward way to make a space appear bigger is by physically increasing its size.When it comes to home renovations in Burlington, that means knocking down walls. Consider expanding your bathroom renovation with Rose Building Group. All renovations are completed strategically and according to code, so you and your family can create a shared bathroom space that is comfortable and beautiful.
Expert Bathroom Renovations in Burlington
With an experienced team on your side, like Rose Building Group, you can get more from your bathroom. Stop dreaming about your home renovation and make it a reality by reaching out to the trusted home renovation contractors at Rose Building Group.