Signs It Is Time to Renovate Your Burlington Bathroom
Posted on November 28, 2022
Knowing when it's the right time to schedule bathroom renovations in Burlington can depend on several factors, such as outdated or faulty plumbing, insufficient storage space, poor lighting, mold problems, or leaks. The quality of your appliances, your family's needs, and the last time you had remodeling done are all factors that determine whether you're ready to move forward with home renovations in Burlington.
Whether you're considering putting your home on the market or simply want to change your bathroom style, the Rose Building Group contractors can help you curate the perfect renovation based on your style preferences and budget.
Below are signs that it's time to renovate your Burlington bathroom.
Lack of Storage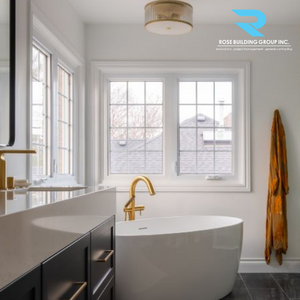 Not being able to easily find your toothbrush, hairspray, or shampoo can be an annoyance, especially on mornings when you're running late. The longer you live in your home, the more items you end up collecting over time, possibly causing clutter, disorganization, and a lack of space for storage. Not every bathroom product is used daily, meaning storage is needed for various items. The professionals at Rose Building Group are experts in optimizing your space and can renovate your bathroom to incorporate adequate storage space in no time.
Increase Value Before Selling
Are you thinking about selling your home? When putting your property on the market, it's ideal to schedule home renovations in Burlington to add upgrades that can drastically increase the value of your house. The experts at Rose Building Group know what it takes to increase your property value and can install new insulation, plumbing, bathroom fixtures, lighting, fresh paint, and more, so you can profit from the bathroom renovation in Burlington.
Mold Problems
From hot baths to showers, moisture and heat create a humid environment, making your bathroom susceptible to mold and mildew. Implementing a high-quality fan and ventilation system that can withstand humidity is imperative to prevent mold spores from growing and thriving. Not only does mold impose health risks, but it can cause extensive damage to your property if not handled immediately. It's critical to contact a professional mold company to remove and remediate the area. In addition, Rose Building Group can install an adequate bathroom fan to mitigate excess moisture.
You've Outgrown Your Space
It's normal for families to grow and change over time. Perhaps you have more children or family members living with you than when you first purchased your home, and now more space is necessary. The contractors at Rose Building Group specialize in planning, designing, and renovating a layout that's specifically curated to your needs. The team of certified professionals can recommend the best options available, ensuring you get the most out of your renovation.
Premium Bathroom Renovations in Burlington
Are you looking for an experienced, cost-effective, and qualified team of contractors to renovate your washroom?
With years of experience, top-of-the-line materials, and a track record of delighted customers, Rose Building Group is the chosen renovation company by homeowners in Burlington. The possibilities are endless when it comes to the experts at Rose Building Group.
See for yourself. Contact Rose Building Group for bathroom renovations today.