Signs You Need a Bigger Bathroom Renovation
Posted on December 08, 2022
Your bathroom is the hub of your home. It's the first place you go in the morning and the last place you go at night. It's no wonder the state of your bathroom can have so much effect on your day. A small bathroom space can often cause unnecessary tension in the home. Whether it's because one person spends too much time occupying it because there's not enough space for multiple people or because you can never find your things efficiently due to the lack of storage. Getting your bathroom on track is also an excellent start to getting your home in order. A bathroom renovation in Burlington might be the right place to start if you're not ready to commit to a complete home renovation.
By bringing in a group of skilled home renovation contractors like the team at Rose Building Group, you can get knowledgeable answers to all your questions and advice on all things renovation.
Signs You Need a Bigger Bathroom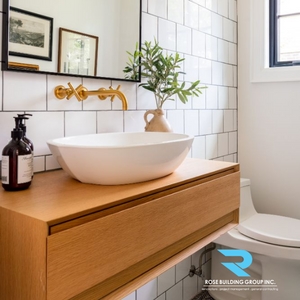 There are a few questions you can ask yourself the next time you take a good look at your bathroom: Is this as nice or as stylish as it could be? Do we have enough counter space? Is there space for all the people that use it?
As your family grows and changes, you want to make sure that everyone's needs are being met, despite your home not always being able to grow with it. Expanding your bathroom space can make sharing with your family more manageable and help avoid unnecessary tension. Likewise, as time goes by, trends evolve, and what was once the height of home decor may have now lost its charm. Upgrading your bathroom means you get a chance to update your bathroom to your style and your family's needs, whether that means modern décor or expanding the counter.
Tips to Make Your Bathroom Look Bigger
A great way to get around a tight bathroom space is to focus less on changing the physical square footage and more on updating the room itself. This can include simple tricks like using brighter paint colours to make the space more open or avoiding patterns that make the area too busy. Another way to get more from your space is to upgrade your storage solutions. This will allow you to use more of your bathroom without needing more square footage and help your bathroom work like a well-oiled machine.
Space Enhancing Fixtures & Upgrades
Committing to a bathroom renovation in Burlington may feel like a big undertaking, but keep in mind all the benefits of a larger bathroom space and the benefit of working with an experienced team of renovation contractors. With more space, you can bring in contemporary fixtures and storage solutions that previously didn't fit in the bathroom. Similarly, you can include convenient upgrades like easy-to-clean countertops or heated flooring.
Start Your Bathroom Renovation with Rose Building Group
For help with all your renovation needs, contact the team of skilled home renovation contractors at Rose Building Group. Their years of experience can help you balance the space you have and the space you need while keeping your style in the mix.