The Best Tips for Your Basement Kitchen Renovation
Posted on April 20, 2023
More and more, homeowners are considering including a kitchen in their basement renovations in Oakville. While a kitchen renovation or addition in the basement can be a big job, skilled home renovation contractors can streamline the process and deliver quality results. There are numerous benefits to adding a second kitchen in your basement. Not only does it foster better basement living for multigenerational families or property owners looking to create a rental unit, home renovations in Oakville refreshes your home for a new modern feel in the comfort of an existing space. When choosing a home renovation contractor for your basement and full home renovations in Oakville, choose the skilled and reliable team at Rose Building Group.
Read on for tops on how to maximize your kitchen basement renovations in Oakville.
Light and Height for Kitchen Basements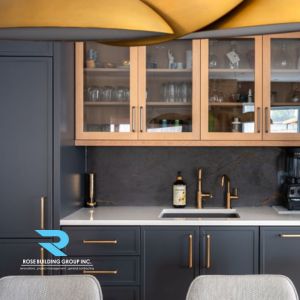 Unless you have a walkout basement, it is important to consider how things like light or ceiling height can impact the look and feel of your space during your basement renovation in Oakville. Light fixtures and bright colours make a space feel brighter and more open. This is important to consider if the lighting is restricted in your basement. Choosing a backsplash, cabinet and floor lighter in colour can help make the entire basement feel fresh and bright. Adding glossy or mirrored elements, such as glossy backsplash, is an excellent way to reflect light.
When planning your basement renovations in Oakville, consider how big the space is, the amount of natural light in the basement and the height of your ceilings. Using under-cabinet lighting and pot lights can help brighten up a basement as well.
The Functionality of Basement Kitchens
The Rose Building Group is dedicated to providing home renovations in Oakville that are not just beautiful but also functional and safe. When renovating a basement kitchen, it is essential to consider its use. Is it a kitchen for entertaining or for renters? This will determine the number of cabinets or storage you need, the type of appliances, and details you'll want to incorporate. If it's a kitchen for entertaining you can limit cabinet installation and maximize space. If the kitchen is for full-time use, we must maximize cabinet space.
Be Creative with Renovation Design
Your kitchen basement renovation in Oakville can still be creative, stylish and modern while taking functionality into consideration. It's important to work with your renovation contractors and have fun, looking for countertops and cabinets that express your style while keeping them light and bright. Basement kitchen renovations can transform your entire basement and bring up the value of your home, so it's definitely worth it. Also, keep an eye on current cabinet trends like shaker cabinets that are often white and can work well in a basement.
Kitchen Basement Renovations in Oakville
Rose Building Group is your partner in the basement kitchen renovation journey. Our home renovation company is equipped with a team of experienced professionals with years of experience, quality craftsmanship and attention to detail. We always use licensed electricians and plumbers and guarantee our work meets current building code standards.
Contact our friendly professionals today to start working on your dream renovation.