The Top Bathroom Renovation Trends in 2023
Posted on March 23, 2023
When it comes to bathroom renovations in Burlington, staying up to date with the latest trends can help you ensure the highest return on your investment. Whether you're planning on selling soon or you're just looking to update your home's current style, bringing in current trends can elevate your designs to the next level. Keep your bathroom design fresh with guidance from the experienced team of Burlington home renovation contractors at Rose Building Group. With years of home and bathroom renovation experience in Southern Ontario, Rose Building Group will help you curate the perfect bathroom space for your style.

From big-picture planning to the most minor details, these are the latest trends in bathroom design for 2023.
Natural Materials & Textures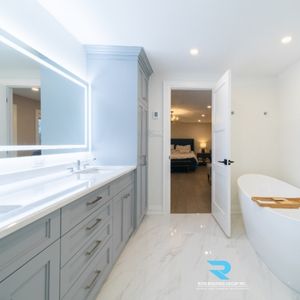 Lovers of rustic and modern styles alike can all agree there's nothing like a touch of nature to inspire relaxation. High-quality wood is a breath of fresh air in contemporary bathroom designs. At the same time, natural elements like flowers or dried wheat sheaves can give your space an intentional modern, earthy appeal.
Spa-Like Features
When executed correctly, your home renovation contractors in Burlington should leave your bathroom feeling like an oasis. That's why adding spa-like features can significantly impact the overall feel and experience in your bathroom. Whether that means adding steam showers and soaking tubs or simply sticking to a colour palette of soothing tones, you can make any day a spa day.
Statement Pieces
A renovation is the best time to ensure your home embodies your style. From bold pops of colours to unique lighting fixtures, the beauty of a good statement piece is that it's a reflection of your personal taste. This year patterns, colours are back in style, allowing individuality to shine through. To really make your statement piece stand out, keep the rest of your space simple so that your eye is naturally drawn to your main attraction.
Luxury Flooring
Good flooring will always be in style. As small of a detail as it may seem, choosing the right floor for your bathroom can completely elevate the space. In 2023, nothing is more trending than heated floors in the bathroom. A warm floor can take your bathroom from okay to oasis. But go beyond the feel of your bathroom flooring and opt for rustic wide plank hardwood or eye-catching herringbone patterns.
Bathtub and Showers
Nothing says relaxation like a great bath or shower. Depending on the space you have, consider adding in a tub with enough room to sprawl out or a shower with enough water pressure to alleviate your stress. Consider 2023 the year to focus on leaving all your worries behind.
Vanities
An essential part of every modern bathroom is a good vanity. As trends related to bathroom renovations in Oakville aim to be more and more relaxing, good storage will significantly impact just how calm and functional your space can be. This year, floating vanities, in particular, will be very popular. These vanities allow you the benefits of storage without altering the balance of your aesthetic. For expert execution with your custom vanity, consult with the leading home renovation contractors Burlington at Rose Building Group.
Plan Your Burlington Bathroom Renovation
Whatever your favourite trend may be, it's crucial to make sure your renovation still fits your own style. By working with the team of experienced renovation contractors at Rose Building Group, you can get the help you need to create a bathroom that's trendy, and you.