Tips for the Best Bathroom Lighting
Posted on July 10, 2023
Bathroom renovations in Oakville are a chance for homeowners to enhance their space. Because the bathroom or powder room is one of the most frequently used rooms in a home, even the smallest details play a significant role in its ambience and practicality. From tile colours to fixture finishes, your home renovation contractors at Rose Building Group take care to ensure that each detail contributes to a cohesive environment that facilitates your daily grooming routine or your daily mirror selfie. One of the most important, but sometimes overlooked bathroom features is lighting. Read on to learn how you can elevate your bathroom renovation with lighting tips and the Rose Building Group team.
Choose the Best Bathroom Light Fixtures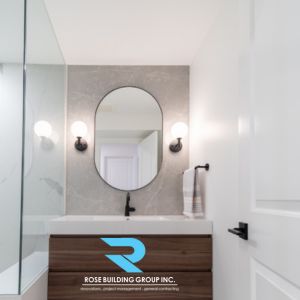 There are many different light fixtures that you can choose from for your home. Chandeliers, pendant lights, and vanity lights are all options that are considered for bathroom renovations. But as you explore these varieties, you'll notice that there are many factors to consider from the finish, shape, illumination potential, and installation or setup. Generally in most bathrooms, home renovation contractors will recommend vanity light fixtures as a must-have. Hung just above vanity mirrors, these light fixtures are responsible for illuminating the mirror so you can see your face clearly at any time of the day or night. But depending on the size and style of your bathroom you can go luxurious and add pendant lights to extra vanity space, chandeliers above your bathtub, and pot lights around your ceiling for optimal lighting. At Rose Building Group, the team of experienced home renovation contractors will guide you through your light fixture selection process to ensure that your choices minimise shadows and deliver the level of lighting that is best suited to your space and lifestyle.
Multiple Bathroom Light Fixtures
Mixing and matching your lights is a great way to add variety to a room. There are three types of lighting to think about:
Ambient Lighting: This is a soft overhead light that is generally through pot lights spread out evenly to light up the whole room.
Task Lighting: This is a brighter light, typically placed near the sink in or around the mirror. This would be used for those detail-focused tasks.
Accent Lighting: This light falls in the middle of the task and ambient lighting regarding brightness. These usually are in the form of track lights that line an appliance or wall (under the cabinets, lining of ledges, etc.).
Contractors have been using all three lighting types to elevate the bathroom and save on your electrical bill, as you only illuminate areas of the room that need to be.
Add a Dimmer
The flexibility of a dimmer can aid in establishing and controlling the mood of any given space. The bathroom is a versatile room where you can either be in a rush or can have a relaxing experience with a bath. For every situation, you can set the mood.
Getting ready: if you are doing your makeup or shaving, you need optimal lighting to enable the best visibility of details on your skin. Being able to simply turn a dial or slide a dimmer to access bright light makes for a more comfortable and efficient grooming experience.
Taking a bath: the intention of taking a bath is typically to relax and have and embrace some downtime. It's hard to do that with a harsh bright light shining on you. Having a dim light can help enhance relaxation. Some individuals use candles and turn the lights off completely; however, with a dimmer, you eliminate the risk of a fire.
Adjustable Lighting Colours
Choosing different colour lights can be challenging. Instead, choose a light that is adjustable in colour. Different colours are more important for doing makeup as the appearance of your cosmetics can change depending on the lighting. When doing makeup, you can choose which light setting is closest to where you will get the best results. For instance, if you are going to a darker setting, like a candle-lit dinner, you may choose to get ready with the warmer-toned light. A "Daylight" colour is best for spending the day outdoors, and a cool tone is best for office spaces. The colour of the light can also affect the ambiance of the space. Warmer tones usually are softer on the eyes, creating a more relaxed environment.
Embrace Natural Lighting
Light fixtures are essential in modern bathrooms; however, embracing natural light is arguably just as vital. If your bathroom has a window or skylight, take advantage of it, as it can help to give your bathroom a natural feel. If you choose to decorate your bathroom with plants, natural light can add to the natural vibe you are looking for.
Light Up Your Bathroom with Rose Building Group
Rose Building Group is equipped to help bring your designs to life to create your dream home. Consult with Rose Building Group to get started on your home today.