Transform Your Bathroom into a Wellness Centre
Posted on April 28, 2023
While bathroom renovations in Burlington are in some regard a standard home renovation, there are many ways you can make your space entirely unique. Leveraging whimsical and creative ideas, as well as guidance from the leading home renovation contractors in Burlington, you can transform your bathroom into your personal sanctuary right in the comfort of your own home. Give yourself permission to indulge in self-care with wellness-centred bathroom renovations in Burlington and Rose Building Group. As a trusted home renovation contractor in Southern Ontario, Rose Building Group will help reinvent your bathroom, bringing your home spa vision to life.
Read on to learn more about how you can transform your bathroom into a wellness centre with home renovations.
Why Turn Your Bathroom into a Spa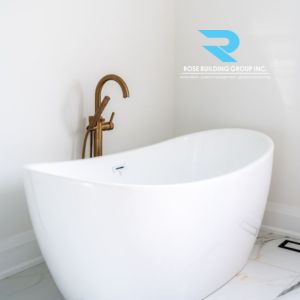 In a fast-paced world, many people need a way to unwind after a hard day at work or busy week. Creating a spa-like environment in your home with bathroom renovations in Burlington is a great way to give yourself permission to relax. With the right features your bathroom can be the escape from the stresses of everyday life you need to restore and recover. As an added bonus, upgrading your home with wellness-centred bathroom renovations in Burlington can also increase your property value come time to sell. With high-quality materials and expert home renovation contractors near Burlington at Rose Building Group, you can count on long-lasting functionality and visual appeal.
Upgrade Your Lighting
Because it is typically used in bathrooms over mirrors or in showers to facilitate illumination for tasks like makeup application and facial grooming, overhead lighting can be quite harsh causing eye strain and headaches. The best lighting for your home wellness centre should facilitate relaxation. Renovation contractors in Burlington recommend installing soft, warm lighting to create a soothing and comfortable environment that relaxes the senses.
Switch to Heated Elements
Being cold can make being comfortable a challenge. Putting your bare feet on cold tiles can send a jolting chill through your body, interfering with your ability to get comfortable in your bathroom. During bathroom renovations in Burlington, ask your home renovation contractors at Rose Building Group about heated flooring to enhance your experience. You can also install heated towel warmers to keep your towels and robes toasty at any given time.
Install a Steam Bath or Sauna
Steam therapy is a great way to calm the mind and treat the body. Regular use and access to a sauna can help melt away stress and rejuvenate the mind. Modern sauna and steam bath designs can elevate the look of your bathroom while taking its functionality to the next level. Saunas can be enhanced with aromatherapy to maximize their benefit. If you've been feeling anxious eucalyptus helps to reduce congestion, whereas lavender is linked to anxiety reduction.
Rose Building Group for Bathroom Renovations
Rose Building Group has built a solid reputation for providing exquisite renovations on properties in Burlington, Hamilton and Oakville. Their team of skilled professionals will be able to transform your bathroom or other areas of your home into the epitome of luxury. Rose Building Group is different from your average home renovation company as they are highly talented, creative and known to provide excellent reliable service. Let us work with your timeframe and budget and give you the space of your dreams.