Turn Your Basement Into the Ultimate Entertainment Area
Posted on September 27, 2023
Unfinished basements are hidden gems, uncharted territory with endless potential waiting to be unlocked with home renovations in Hamilton. Basement renovations in Hamilton have become increasingly popular, and for good reason. This often-underutilized space offers a blank canvas, an opportunity to transform it into the ultimate entertainment area that will be the centre of all life's most entertaining moments for you, your friends, and your family. From creating a home theatre that rivals the local cinema to designing a kitchen and dining area perfect for hosting gatherings, explore how to turn your basement into the ultimate entertainment destination.
At Rose Building Group, the team of experienced and skilled contractors will help you meticulously transform your home with basement renovations in Hamilton to a tailored entertainment zone.
Build a Customizable Movie Theatre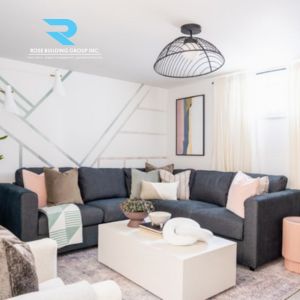 Creating your very own cinema right in the comfort of your home, where you can watch your favourite movies in style, is the dream for movie buffs and families looking for a way to spend more quality time together. With expert home renovations in Hamilton and Rose Building Group, you can maximize your entertainment space.
Sound and Visuals: Invest in high-quality audio-visual equipment, including a large-screen television or projector and surround-sound speakers, enabling a cinematic experience that immerses you in the action.
Comfortable Seating: Choose plush, reclining seats or a spacious sectional sofa to provide the perfect viewing comfort for you and your guests. Work with your basement renovation contractors to include raised seating to include more people in your home theatre without interfering.
Choose the Best Lighting: Lighting is imperative to the audio-visual experience. Install dimmable lighting to enable control of the ambience so you can alter the mood and access the environment of an actual movie theatre.
Soundproofing: To prevent sound from disturbing the rest of the house, consider soundproofing the walls and ceiling. This will enhance your viewing experience and keep peace with the rest of your household.
Include a Secondary Kitchen Area
No entertainment area is complete without a place to prepare and enjoy delicious meals and snacks, whether you're hosting a party or watching the big game. Designing a kitchen and dining area in your basement will make all of life's most meaningful events that much more special.
A Secondary Kitchen or Kitchenette: While a full kitchen might not be necessary, a kitchenette with a sink, refrigerator, microwave, and counter space will allow you to prepare drinks and snacks with ease. Skilled renovation contractors in Hamilton at Rose Building Group will revamp your basement and emulate the aesthetic allure of full-sized kitchens nestled into your available space.
Add Dining Space: Create a cozy dining nook or a larger dining table with comfortable seating for your guests. Consider open shelving or cabinets for storing glassware and tableware to give your guests a place to gather.
Customize Your Basement Bar
A well-stocked bar is a fantastic addition to any entertainment area. Whether you're a cocktail enthusiast or simply enjoy a glass of wine with friends, a basement bar adds sophistication and fun to your space and style with the right renovation contractors at Rose Building Group.
Bar Counter: Install a stylish bar counter with enough space for a variety of beverages, glassware, and bar tools. Consider using high-quality materials like granite or quartz for a touch of elegance.
Storage: Add shelves, cabinets, or a wine rack to store your liquor collection. Don't forget to include a mini-fridge to keep your drinks chilled.
Bar Stools: Choose comfortable and stylish bar stools that match the overall décor of your basement. These provide the perfect seating for guests while they enjoy their drinks.
A Playroom for the Kids
If you have children or enjoy games and recreational activities, creating a playroom in your basement is an excellent choice. This versatile space can be customized to cater to various interests and age groups with a special touch.
Gaming Zone: Set up a gaming area with consoles, board games, and a comfortable seating arrangement. Consider adding a dartboard or a ping pong table for some friendly competition.
Toy Storage: If you have kids, install shelves, bins, or cabinets to keep their toys organized and easily accessible.
Exercise Corner: Dedicate a portion of the playroom to fitness equipment or a mini-gym. This can encourage physical activity and provide a healthy outlet for energy.
Health & Functionality with Home Gyms
Transforming a portion of your basement into a home gym is not only a convenient way to stay fit but also a fantastic investment in your overall well-being. Incorporating a gym into your home will give you access to everything you need to make your home more convenient.
Fitness Equipment: Select the right equipment and accessories based on your workout preferences and goals. Whether you're into cardio workouts, strength training, or yoga, outfitting your home gym with the appropriate machines and gear is essential. Consider including a treadmill, stationary bike, weight bench, free weights, resistance bands, or a mirror wall for guided workouts.
Flooring: Invest in high-quality, durable flooring that can withstand the demands of your workouts. Rubber flooring or interlocking foam tiles are excellent choices, providing comfort, stability, and protection for both you and your basement floor. Talk to your renovation team about the best flooring options for healthy workouts and longevity.
Mirrors and Storage: Installing large mirrors on one wall can help you maintain proper form during workouts and create the illusion of a more spacious area. Additionally, consider incorporating storage solutions for fitness accessories, such as yoga mats, foam rollers, and towels.
Basement Renovation Upgrades with Rose Building Group
Your basement holds the potential to become the ultimate entertainment area with guidance from Rose Building Group. Regardless of how you choose to use it, the Rose Building Group team will offer quality, longevity, and beauty.