Luxury Basement Renovations in Hamilton
Expert Contractors | Modern Customizations | Planning & Design
Are You Maximizing Your Basement? Unlock Its Potential with Basement Renovations.
Unfinished basements are often forgotten but filled with potential. Finishing your basement adds functionality and value to your home.
As the leading home renovation contractors in Hamilton, the Rose Building Group team has the knowledge and experience to help you achieve your dream basement renovation, whether that's a themed room or a separate rental unit. From planning and designing to the final execution, you can trust the Rose Building Group experts to renovate your basement into a functional, beautiful room that everyone will enjoy.
Transform Your Basement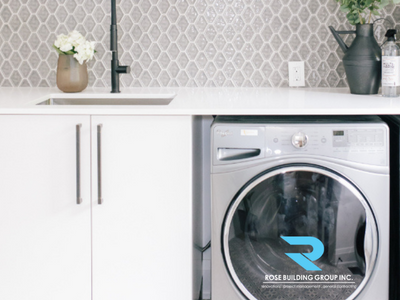 Is your basement unfinished and in need of renovation? Or perhaps you've outgrown the current style and design? No need to stress; Rose Building Group has decades of experience in curating the perfect basement renovation in Hamilton based on your budget and preferences.
The home renovation contractors, project management, and designers at Rose Building Group have the ability to completely transform your basement. The team helps with every step along the way, ensuring your basement renovation goes smoothly.
Rose Building Group's Remodelling Services Include:
Flooring Installation
Environmental Improvements
Electrical & Structural Work
Installation of HVAC Systems
Drywall, Plumbing, Fixtures & Fireplace Installation
Staircase Remodel or Resurface
Benefits of Modern Basement Renovations
Whether you want a home office, a playroom for your children, or rent out your basement, the experts at Rose Building Group have what it takes to reconstruct your basement into anything you desire.
Increased Property Value: After renovating your basement, the property value of your home significantly increases. Remodelling your basement also makes it much more appealing to potential buyers, allowing for a quick and easy selling process.
Rent Out Your Basement: If you're not interested in selling your home and prefer some extra cash, renting out your basement is ideal. Renovating your basement to be rented out can produce a secondary income, helping with renovation costs.
Refined Storage Space: Since unfinished basements often turn into undesignated storage spaces, it's essential to incorporate refined storage spaces to effectively conceal unorganized items. With functional yet hidden storage spaces, you can get rid of years of clutter that has piled up, making more room for furniture, movement, and functionality.
Additional Living Room: It can be challenging to have alone time, especially if you live in a smaller home with children. Basement renovations in Hamilton offer an additional living space so you can escape into a peaceful retreat any time of the day.
Second Kitchen: Popular among those who love to cook, bake, and entertain, including a second kitchen in your basement renovation gives you the space you need to put together the perfect menu in style.
Why Homeowners Trust Rose Building Group
If you've been waiting to renovate your basement, now is the perfect time to get started. With high-quality materials and licensed professionals at Rose Building Group, you can trust that your basement renovation will go as planned - providing you with a modern, customized, and improved basement in no time.
Ready for the ultimate basement renovation in Hamilton? Contact Rose Building Group today!