What to Expect During the Design & Drawing Phase of Your Renovation
Posted on August 17, 2023
Home renovations are often big projects that take professional support from experienced renovation contractors and meticulous planning. If you intend on remodeling or revamping your entire home or a specific room in your home, it's essential to understand why designs, blueprints, and drawings are important. For a full-suite of service that you can rely on, consult Rose Building Group, Southern Ontario's leading renovation contractors, to help create your dream home; whether it's an entire bathroom renovation in Burlington, a kitchen remodel, or full-home upgrade.
Read up on things to keep in mind when designing and drawing out your renovations.
Why Designs & Drawings are Important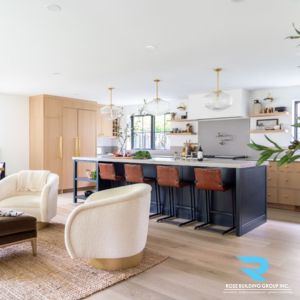 Architectural drawings and designs play a crucial role in home, kitchen, and bathroom renovations. These elements provide the necessary roadmap for these projects, allowing homeowners and professionals to visualize the changes before any actual work begins. Designs and drawings are important plans pieced together by skilled renovation contractors to detail the structural adjustments and also address the balance between aesthetics and practicality. In a kitchen, they determine the optimal arrangement of appliances for efficiency, while in a bathroom, they plan the positioning of fixtures and plumbing for functionality. These drawings serve as a practical link between ideas and execution, ensuring that all work, whether they're kitchen, bedroom, or bathroom renovations in Burlington, are well-informed and successful.
What to Expect During this Phase of Your Home Renovation
Initial Consultation: The process typically starts with a consultation between you (the homeowner) and a designer or architect. During this discussion, you'll outline your goals, preferences, and budget for the renovation.
Site Assessment: The designer or architect will visit your property to assess the existing space, its layout, dimensions, and any structural considerations. They'll take measurements and photographs to have a comprehensive understanding of the space.
Conceptualization: Based on your input and the site assessment, the design professional will begin brainstorming and conceptualizing different ideas for the renovation. They'll consider factors like functionality, aesthetics, and any special requirements you may have.
Sketches and Layouts: Initial sketches and layout options will be created to illustrate potential design directions. These sketches may include floor plans, rough spatial arrangements, and basic outlines of any proposed changes.
Design Development: Once you've provided feedback on the initial sketches, the designer or architect will refine the design further. This could involve adjusting layouts, exploring material options, and considering specific design elements.
Detailed Drawings: As the design solidifies, more detailed drawings will be created. These could include detailed floor plans, elevation drawings (showing vertical views of walls), sections (cutaway views), and 3D renderings to help you visualize the end result.
Material Selection: During this stage, you'll start selecting specific materials, finishes, colors, and textures that will be used in the renovation. This could involve choosing items like flooring, cabinetry, countertops, tiles, and more.
Cost Estimation: With a clearer design in place, the design professional can provide a more accurate cost estimation for the renovation. This will help you assess whether the project aligns with your budget.
Permits and Regulations: Depending on the scope of the renovation, permits and approvals may be necessary from local authorities. The design drawings will often be submitted to obtain these permits.
Finalization: Once you're satisfied with the design and the details have been finalized, the designer will create the comprehensive set of drawings that contractors will use for construction. These drawings will include all necessary dimensions, specifications, and instructions.
Contractor Collaboration: The design drawings will be shared with contractors and builders who will use them to execute the renovation. The level of detail in the drawings helps ensure that everyone is on the same page regarding the project's scope.
The design and drawing stage is a critical phase of the renovation process as it establishes the roadmap for the project and helps prevent surprises or setbacks during construction. Clear and well-thought-out drawings lay the groundwork for a smooth and successful renovation journey.
Expert Home Renovations with Rose Building Group
Consult Rose Building Group to bring your renovation visions to life and to get expert advice to make it functional and aesthetically pleasing. Serving homeowners in Oakville, Burlington and Hamilton, contact Rose Building Group for all residential renovations, from bathrooms to kitchens and offices.