What to Expect When Renovating Your Basement During COVID-19
Posted on April 22, 2021
The ongoing COVID-19 pandemic has changed our lives in many ways. Most people are spending more time at home with their families and realizing it's time for a home renovation. Whether you need a home office or are looking to turn unused space into a playroom or home gym, basement remodeling and renovations are more popular than ever. Thankfully, residential construction is deemed an essential service by the provincial government, and home renovation companies can continue with remodels and renovation during the ongoing COVID-19 restrictions. Rose Building Group Contractors are following Ontario Home Builders' Association (OHBA) detailed Health and Safety Guide that outlines best practices for renovators during the pandemic.
Sanitation and Cleanliness on the Job Site are Paramount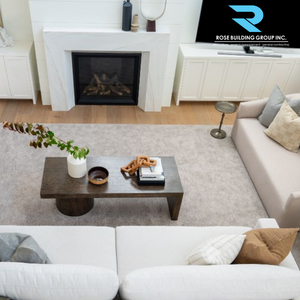 When it comes to any basement remodeling project, the team at Rose Building Group strictly follows the Health Canada guidelines for workplace safety. Our top priority is the health and safety of both our clients and our personnel. All team members will always be wearing a mask, following social distancing protocols, and cleaning contact surfaces with Health Canada-approved disinfectants. We integrate cleanliness into everything we do and we pride ourselves on keeping a safe and clean workspace throughout the renovation process. Our employees are screened every day for COVID-19 symptoms, and employees are not allowed to come to the job site if they are feeling sick.
Site Access by Appointment Only
During the pandemic, it is essential to know who you may contact throughout the day. At Rose Building Group, our team of technicians will only access the renovation site during an approved appointment time. If you want to make sure that you are not home during your basement remodeling, our team can work with your schedule to ensure you are not around during the building process. You will have complete control over when and how we access the renovation site to help you and your family feel safe and comfortable during the building process.
Communicate with Your Contractors
Home renovation companies know that the most crucial step of any safety routine is clear communication. At Rose Building Group, we recommend having frequent conversations with your contractor about your safety and comfort level. We can easily set up a video or phone call to discuss any of our safety protocols or the renovation progress. We are committed to creating exceptional remodels while ensuring the comfort and safety of you and your family. If the situation changes or you are worried about a specific part of the renovation, contact your contractor, and we can work together to find a solution.
At Rose Building Group, we offer high-quiet remodels and renovations at an affordable price for homeowners in the Burlington and Oakville area. We specialize in one-of-a-kind remodels to help transform your house into a brand-new home. Our team is currently operating as an essential business during the ongoing lockdown in Ontario and can continue developing new projects. Whether you are looking for basement remodeling, an entire home remodel, or a new home office, our team is here to help. We are closely monitoring the constantly evolving situation in Ontario and follow all Health Canada guidelines during all our building projects. We are committed to creating a safe and inclusive workspace that prioritizes your health and the timeliness of the renovation. To get started planning your basement remodeling or home renovation project, contact the Rose Building Group to get a free quote at 905-466-8884.