Why You Should Hire a Contractor to Do Your Home Renovations
Posted on August 29, 2023
Home renovations in Hamilton can be exhilarating, to say the least. Though the prospect of a newly revamped space is exciting, there's a lot to get done. Home renovation contractors in Hamilton can help to take that burden off your shoulders. The skilled and experienced experts at Rose Building Group can benefit from bathroom to basement renovations in Hamilton. As a professional contracting company, the team strives to provide high-quality renovation services to create your dream home, working and communicating with you every step of the way.
Read on to learn about the importance of a contractor in home renovations.
The Best Return on Investment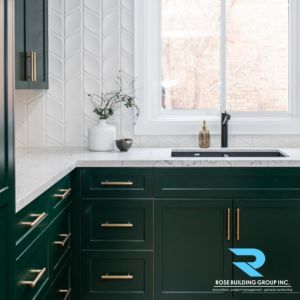 When it comes to home renovations, partnering with skilled contractors isn't just a good idea – it's a smart investment. Collaborating with experienced professionals brings an array of benefits that offer an impressive return on investment. Seasoned home renovation contractors often have established vendor partnerships, granting access to high-quality materials at competitive prices. Having tackled various projects, the team at Rose Building Group has the experience and expertise that enables them to foresee potential challenges and implement efficient solutions. This minimizes costly errors and delays, ensuring your project stays on track and within budget. From concept to completion, working with skilled home renovation contractors is the key to optimizing your investment and transforming your vision into reality.
Expert Advice & Resources
A benefit to working with skilled and experienced home renovation contractors on your projects is the overall knowledge these individuals carry about design and construction. They have a professional understanding of what looks good and what doesn't in a home. So, if you are ever at a crossroads in making design choices, you can quickly consult your contractor for a functional and aesthetic solution. The Rose Building Group team ensures that building permits are obtained for all construction projects, from bathroom to basement renovations in Hamilton.
Licensed and Insured Renovation Teams
A licensed contractor not only demonstrates expertise and compliance with industry standards but also assures you that they're well-versed in local regulations. Equally important, insurance coverage safeguards you and your property in case of accidents or damages during the renovation process. This financial protection adds an extra layer of peace of mind, ensuring you won't bear the brunt of unexpected costs. With licensed and insured professionals, you're not just investing in your home's transformation – you're investing in a smoother, more secure renovation experience.
Overcome Challenges Skillfully
During renovations, it's not a bad idea to expect the unexpected. Whether you're working on a basement renovation, kitchen renovation, or bathroom renovation, surprises are common. Whether it's a plumbing problem or a supply chain issue, having a strong, reliable team of contractors on your side will allow you to navigate these problems with ease. With years of renovation experience, the Rose Building Group team has the know-how to tackle any challenge strategically to ensure you get the result you want out of your home renovation.
Expert Home Renovations with Rose Building Group
Prioritizing customer satisfaction and high-quality work, Rose Building Group is a leading home renovation company serving Southern Ontario. Contact Rose Building Group today to start on your renovations for your home.