Your Guide to Stylish Backsplashes for Your Kitchen Renovations
Posted on March 10, 2023
When it comes to kitchen renovations in Oakville, the right backsplash can make all the difference in creating a stylish and practical space. A backsplash adds visual interest and serves the important function of protecting your walls from spills and splatters.
Fortunately, the home renovation contractors at Rose Building Group provide homeowners with countless backsplash options, ranging from classic subway tile to bold patterns and textures.
Read on for insights into trending and classic backsplash options for your 2023 kitchen renovations in Oakville, Hamilton, and Southern Ontario.
Existing Backsplash Kitchen Renovation Trends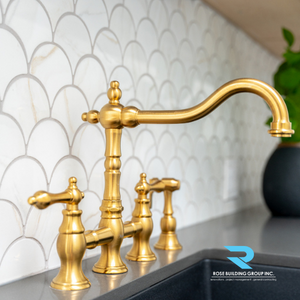 The possibilities are endless, from vibrant colours and intricate patterns to unconventional materials like reclaimed wood and concrete. And if you're a fan of modern aesthetics, you'll be happy to know that large-format tiles are becoming increasingly popular, creating a sleek and sophisticated look. These trends are definitely set apart from the more traditional backsplashes that often feature classic subway tiles or simple patterns in neutral colours.
Subway Tile: Subway tile is a classic and timeless choice for any kitchen. Its clean and simple design allows it to complement any design style, from traditional to modern. For added interest, the subway tile can be installed in various patterns, including the classic brick pattern or herringbone.
Solid Surface: One of the most popular choices at Rose Building Group for kitchen renovations, the solid surface backsplash is a contemporary, stylish, and functional option that eliminates grout lines for a seamless flow from your walls to your countertops. The continuous finish makes cleaning as simple as a wipe, so you can maximize your time in the kitchen. Available in multiple stone options, the solid surface backsplash can be customized to suit kitchens of any size or style.
Glass Tile: Glass tile backsplashes are a popular choice with renovation contractors for those looking to add a modern touch to their kitchen. The reflective surface of glass tile can make your kitchen feel brighter and more spacious. Glass tiles come in various colours and finishes, from transparent and glossy to frosted and matte.
Mosaic Tile: Mosaic tile is an excellent option for those who want to add character to their kitchen. Mosaic tile can be made up of small tiles in different shapes and colours, creating a unique and personalized design. The Rose Building Group kitchen renovation team can install your mosaic tiles in a pattern that suits your final vision.
Metal Tile: Metal tiles create a sleek and modern look in your kitchen. They are also durable and easy to clean, making them a practical choice for a backsplash. Metal tile backsplashes add a touch of industrial or modern style to their kitchen. Metal tiles can come in various finishes, including stainless steel, copper, and bronze.
Textured Tile: Textured tiles add depth and interest to your kitchen backsplash, making them a popular choice for kitchen renovations in Oakville. Textured tile can come in an array of materials, including ceramic, porcelain, and stone. One of the benefits of using textured tiles for your backsplash is the ability to customize the look and feel of your space. You can choose from a myriad of textures, from natural stone and wood-inspired tiles to tiles with intricate patterns and shapes. Your Rose Building Group renovation contractors can play around with the tiles' size and shape to create a custom design that suits your personal taste and complements your kitchen's overall aesthetic.
How to Choose the Right Backsplash
No matter which backsplash option you choose, it's essential to consider the colour and finish of your cabinets and countertops when making your decision. A backsplash should complement the overall design of your kitchen, not compete with it.
In addition to choosing the right backsplash, it's vital that you hire the right renovation contractor for your kitchen renovations. A good renovation contractor can help guide you through the process and ensure your vision for your kitchen becomes a reality. They can also provide valuable insight and recommendations based on their experience and expertise.
Choosing the Best Renovation Contractors
At Rose Building Group, we are committed to providing high-quality kitchen renovations that exceed our client's expectations. Our team of experienced professionals can help you choose the right backsplash for your kitchen and ensure that every aspect of your renovation is completed to the highest standards.