Modern Bathroom Renovations in Milton
Customizable Designs | Expert Project Management | After Care Warranty
Do you want a fresh new look for your bathroom?
Rose Building Group boasts over 16 years of first-hand experience in planning, designing, and renovating in the Greater Toronto Area. Using only high-quality materials and providing top-tier service, the Rose Building Group team of home renovation contractors in Milton has what it takes to completely transform your home's bathrooms.
When you choose the Rose Building Group team for your bathroom renovation in Milton, you're choosing confidence and skilled execution.
Make Your Washroom The Perfect Retreat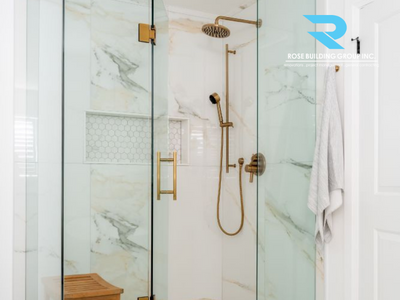 Your washroom should be a place where you can feel great while getting ready in the morning and a peaceful place to escape at night. Prioritizing your self-care routine while surrounded by your new and improved washroom can make life all the better. Sit back and relax in your new tub with gold accents, or organize your bathroom items with functional storage space. The expert bathroom remodelers at Rose Building Group will ensure all your visions come true with bathroom renovations in Milton.
Renovation and design specialists at Rose Building Group are certified and highly experienced in remodeling and renovating bathrooms, offering a variety of services, including:
Heated floor thermostat & cable
New frosted or clear bathroom windows/doors
Quartz or granite countertops
Steam shower & body jets installation
Freestanding and skirted bathtubs
Demolition down to the original framing
And so much more!
Reach out to one of our bathroom renovation contractors today!
Different Ways You Can Transform Your Bathroom
There are many different ways you can transform your bathroom. Whether you want new countertops or complete demolition, Rose Building Group has got you covered.
Customizations: Customize your bathroom with a new built-in steam shower, heated floors, and a nice rug to warm up the room and give it that final touch. Or perhaps add a frosted shower door with an added seat for comfort. Choose from virtually endless customization opportunities, for a bathroom renovation in Milton that is as unique as you.
Lighting: Good lighting that enhances the bathroom is key to a beautiful renovation. Showcase your plants or artwork to give the space an illuminating shine. There are many possibilities for decorative lighting to add interest to your bathroom. Choose to hang a luxurious chandelier over your bathtub or place scones on each side of the mirror to amplify the look.
Functional Storage: Functional storage for your bathroom is one of the best things to do when you decide to renovate. Since there are typically many bathroom items like shampoo, hair brushes, makeup, towels, and more, things can become cluttered very quickly. With functional storage space, you can have a spot for all your items, which can be hidden for bathroom guests.
Do you want a functional and clutter-free bathroom? Contact us today.
Top-Tier Renovations in Milton
If you want the highest-quality materials and service, look no further than Rose Building Group for bathroom renovations and bathroom remodeling.
Rose Building Group offers:
Dedicated & Skilled Team of Technicians
High-Quality Materials & Technology
After Care: One-Year Warranty
Excellent Customer Service
And more!